THE D'OYLY CARTE OPERA COMPANY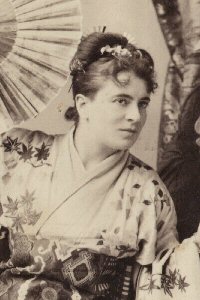 Vernona Jarbeau as Yum-Yum in The Mikado
Vernona Jarbeau (1881)
[Born c.1861, died Nanuet, New York 16 Oct 1914]
Vernona Jarbeau's only experience with the D'Oyly Carte organization was not in Gilbert & Sullivan, but rather as Arabella Lane in Stephens & Solomon's Billee Taylor in April and May 1881.In April 1881 she replaced Alice Burville in the part with R. D'Oyly Carte and Edward E. Rice's First American Billee Taylor Company, and in May she transferred to the Second Company, switching assignments with Rachel Sanger.
Miss Jarbeau is, ironically, better remembered for two Gilbert & Sullivan roles, both in unsanctioned New York productions, and both at the Standard Theatre. On January 15, 1879, she was Hebe in the first New York production of H.M.S. Pinafore.It was her New York stage debut, and a part she would return to on several occasions.In August 1885, Miss Jarbeau was hired by James Duff, who had hoped to preempt D'Oyly Carte with a rival Mikado at the Standard Theatre.Duff's version, with Miss Jarbeau as Yum-Yum, achieved little in the way of critical or popular acceptance.It ran until November and then left for Chicago.
Over the years she appeared in many well-known musical shows and ultimately toured the country in vaudeville.Upon the death of her husband (former theatre manager Jefferson Bernstein) in 1911, she retired to her farm where she raised prize cattle and bulldogs.
---
Return to I - J Index | Return to "D'Oyly Carte Who Was Who" Home Page
---