THE D'OYLY CARTE OPERA COMPANY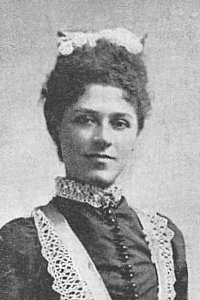 Clara Jecks
Clara Jecks (1878)
[Born 22 Sep 1857, died 5 Jan 1951]
Clara Jecks was born to the stage.The daughter of Harriet Coveney and actor-manager Charles Jecks, she first appeared on stage as a baby in a play entitled One Hundred and Two.Her London debut was in F. C. Burnand's Kissi Kissi, at the Opera Comique in July 1873.
Her only engagement with the D'Oyly Carte organization was with Carte's touring Comedy Opera Company from March to August 1878.She served in the chorus of The Sorcerer and Trial by Jury, and also took the small part of Jenny Wood in Breaking the Spell, the curtain raiser that alternated with Trial by Jury on the bill with The Sorcerer.
A popular soubrette, she appeared in over 200 roles in opera, drama, and pantomime in London, its suburbs, and the British provinces.One long-forgotten role was Sharp, Jack Pointer's maidservant, in Charles Abbott's farcical comedy The Sleepwalker (Strand, 1893), an adaptation of W. S. Gilbert's short story "Wide Awake."Her last appearance on the London Stage was in a benefit performance of Sheridan's The Critic (His Majesty's Theatre, June 27, 1911).
---
Return to I - J Index | Return to "D'Oyly Carte Who Was Who" Home Page
---