THE D'OYLY CARTE OPERA COMPANY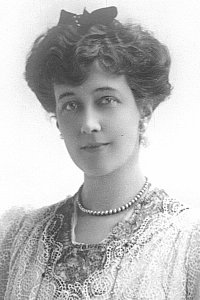 Ellis Jeffreys
(Miss) Ellis Jeffreys (1889)
[Born Colombo, Ceylon 17 May 1868, died Surrey 21 Jan 1943]
Minnie Gertrude Ellis Jeffreys never used her first two names in her 50 years on the stage and screen.She made her debut with the D'Oyly Carte Opera Company in the chorus of The Yeomen of the Guard at the Savoy in October 1889.It was her only engagement with the Company.The following year she sang several leading roles in La Cigale during its run at the Lyric Theatre.
Miss Jeffreys went on to appear in more than 75 stage productions, including Gilbert and Grossmith's Haste to the Wedding (Criterion, 1892), in which she played the Marchioness of Market Harborough. Other works in which she performed included The Bauble Shop, The Fringe of Society, The Headless Man, The Two Orphans, My Soldier Boy, Sweet Lavender, The Vagabond King, The Elixor of Youth, The Prince Consort, and On the Love Path.Her first of several American tours was in 1895 in The Notorious Mrs. Ebbsmith with John Hare.
Between 1930 and 1938 she appeared in at least eleven British films, including Limelight, Eliza Comes to Stay, and Sweet Devil.
---
Return to I - J Index | Return to "D'Oyly Carte Who Was Who" Home Page
---