THE D'OYLY CARTE OPERA COMPANY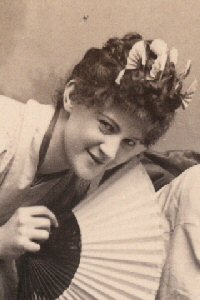 Edith Jennesse as Peep-Bo in The Mikado
Edith Jennesse (1886, 1887)
Edith Jennesse made her first appearance on the New York Stage with Rice's Surprise Party in a "novel entertainment" called A Bottle of Ink (New York Comedy Theatre, January 1885).Act II of this comedy included a "grand scene" from Princess Ida (Miss Jennesse as Melissa), a scene from Gilbert's Pygmalion and Galetea (Miss Jennesse as Pygmalion), and another "grand scene" from Offenbach's Orpheus and Eurydice (Miss Jennesse as Mercury).
She had two engagements with the D'Oyly Carte organization in America.In January 1886 she assumed the role of Peep-Bo with Carte's Second American Mikado Company on tour in New York and England.The tour lasted until March.She later toured with Stetson in non-D'Oyly Carte productions of The Mikado and Princess Ida, as Peep-Bo and Sacharissa respectively, appearing at the Fifth Avenue Theatre, New York, in November-December 1886.The tour also included Patience, with Miss Jennesse singing Lady Saphir, in Boston in January 1887.
Then, from February to May 1887, she appeared under the D'Oyly Carte banner again, this time touring the Northeastern United States in a company managed by John Stetson, first as Melissa in Princess Ida, then as Zorah with Carte's Second American Ruddygore Company, beginning in March.
Little is known of here career after that.She did appear in Boston in March 1888 in a revival of Charles H. Hoyt's farcical comedy A Rag Baby.
---
Return to I - J Index | Return to "D'Oyly Carte Who Was Who" Home Page
---