THE

D'OYLY CARTE OPERA COMPANY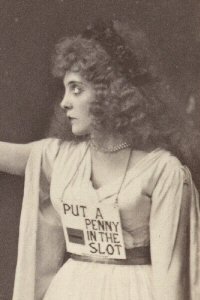 Aïda Jenoure as Nita in The Mountebanks

Aïda Jenoure (1885-88)

[Born Hanwell, Middlesex]

Aïda Jenoure made her stage debut in the chorus with D'Oyly Carte's First American Mikado Company in New York City in August 1885.

It appears likely that she returned to England in May 1886, and may well have toured Germany and Austria in the chorus of The Mikado with Carte's "Continental Company" until January 1887.

In February 1887 she gave two performances at the Savoy as Zorah in Ruddigore. She then went to New York as Zorah with Carte's First American Ruddygore Company. The run lasted two months. In May 1887 she was back at the Savoy, replacing Josephine Findlay as Zorah for the remainder of the run there. In November 1887 she joined the "Continentals" again, playing Lady Ella in Patience and Peep-Bo in The Mikado for audiences in Germany and Austria. She returned to the British Isles in February 1888 and toured with Mr. D'Oyly Carte's "C" (Repertory) Company until June 1888, appearing as Ella, Peep-Bo, and Amanda in The Carp, a one-act Frank Desprez & Alfred Cellier "Whimsicality" that played on the bill with H.M.S. Pinafore.

Miss Jenoure then left the D'Oyly Carte organization and returned to New York, where she appeared at the Star Theatre as Penelope in a burlesque of that name with Lydia Thompson in October 1888. She played leading roles in London and on tour until 1915 or thereabouts. Among her successes was Nita in Gilbert & Cellier's The Mountebanks at the Lyric (January-August 1892).

She served in the Censorship Office in Liverpool during World War I and then acted in Camp Theatres. She began touring again in the early 1920s and returned to the London Stage in 1925. She continued to perform there and on tour until 1929.