THE D'OYLY CARTE OPERA COMPANY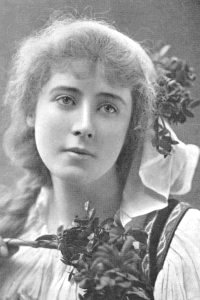 Edith Johnston as Maraquita in The Chieftain
Edith Johnston (1892-95)
[Born Birmingham 16 Aug 1871, died Bournemouth 23 Jul 1931]
As a child, Edith Johnston once took part in a juvenile production of H.M.S. Pinafore in her native Birmingham, taking the part of Josephine. She auditioned for the D'Oyly Carte Opera Company in October 1892 and joined the chorus of Haddon Hall at the Savoy two months later. She would understudy Emmie Owen as Rose in Jane Annie (May-September 1893) and went on for Miss Owen for a week when the opera played in Birmingham. Back at the Savoy, she created the small part of Salata in Utopia Limited (October 1893-June 1894), played a dancing-girl in Mirette (July-August and October-December 1894), and appeared as Maraquita in the first production of The Chieftain (December 1894-March 1895).
By October 1895 Miss Johnston was in New York--as Dewman, the dawn fairy, in Humperdinck's Hansel and Gretel at Daly's Theatre through January 4, 1896. Upon her return to London later that year she continued in grand opera--again as Dewman, at Drury Lane, and as Paggio in Rigoletto at Covent Garden, before returning to lighter fare at the Shaftesbury. There she appeared in The Little Genius and The Yashmak before leaving the London Stage in July 1897.
Married the following year, she had five children over the next eight years. Her marriage ultimately ended in legal separation and she returned to the stage.
Edith Johnston created the role of the Queen in J. M. Barrie's A Kiss for Cinderella (Wyndham's, March-July 1916), and appeared as Millicent Alborough in a play called The Old Country (Wyndham's, September-November 1916). Miss Johnston numbered Barrie among her friends in an 1895 article in The Sketch and remained close to the author throughout her life. She later appeared in London as Mrs. Coade in Barrie's Dear Brutus (Wyndham's, 1922), Frau Schumann in Magda (Playhouse, 1923) and as Hester in The Ship (Everyman, 1929).
One of her daughters, Felicia Browne, was a painter and sculptor working in Barcelona at the outbreak of the Spanish Civil War. An avid communist, she joined a militia unit there and on August 28, 1936, was killed on a mission to blow up a munitions train in Aragon. She was the first British national to die in that conflict.
---
Return to I - J Index | Return to "D'Oyly Carte Who Was Who" Home Page
---