THE D'OYLY CARTE OPERA COMPANY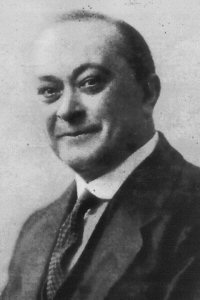 H. Blake Johnston
H. Blake Johnston (1889-93, 1896-1913)
[Born Bombay, India 1862]
Henry R. Blake Johnston appears to have joined the D'Oyly Carte organization as a chorister in 1889.He took his first named part:Leonard Meryll in The Yeomen of the Guard:with D'Oyly Carte Opera Company "D" on tour in the British Isles from August to December 1890.Johnston then transferred to D'Oyly Carte Opera Company "C," where he played small tenor parts (Leonard in Yeomen and Francesco in The Gondoliers) from January 1891 to July 1892.It seems he then transferred to the main London Company at the Savoy as chorister and understudy, filling in briefly for Courtice Pounds as John Manners in Haddon Hall in January 1893.He remained in the Savoy chorus for Jane Annie (May-July 1893).
We then lose track of him for more than three years:until October 1896, when he turned up as Lord Dramaleigh on tour in Utopia Limited with D'Oyly Carte Opera Company "D."When the Company disbanded the following month, Johnston headed for South Africa with another D'Oyly Carte touring company.There he appeared regularly in several small tenor roles (Leonard, Francesco, Dr. Tannhauser in The Grand Duke, and, possibly, Mr. Blushington), and one leading baritone part (Strephon in Iolanthe).He also deputized for Richard Clarke as Nanki-Poo in The Mikado on occasion.The Company returned to England as Carte's Company "B" in July 1897, where Johnston appeared that month as Francesco.
In August 1897 he shifted to Company "C," where he toured in mostly smaller parts until March 1902.Over this period he appeared briefly as Nanki-Poo (for Robert Evett in August 1897) and Cyril in Princess Ida (1898), and for longer periods as Leonard (August 1897-March 1902), Lord Dramaleigh in Utopia Limited (August 1897-March 1900), Annibale in The Gondoliers (January 1900-March 1902), and the Physician-in-Chief in The Rose of Persia (January-September 1901).
He was promoted to principal tenor on the Company's next South Africa tour:April 1902-May 1903.There he appeared as Alexis in The Sorcerer, Ralph Rackstraw in H.M.S. Pinafore, Frederic in The Pirates of Penzance, the Duke of Dunstable in Patience, Earl Tolloller in Iolanthe, Nanki-Poo, Colonel Fairfax in The Yeomen of the Guard, Marco in The Gondoliers, Captain Fitzbattleaxe in Utopia Limited, and Yussuf in The Rose of Persia.
Upon his return, however, it was back to lesser roles.He toured with D'Oyly Carte Opera Company "E" from July to December 1903 as Leonard, Luiz in The Gondoliers, and Bob Berkeley in Bob, the one-act companion piece that played with H.M.S. Pinafore.After Company "E" disbanded in December, Johnston joined the remaining D'Oyly Carte Repertory Opera Company.
Over the next eight-and-a-half years his roles were Leonard in Yeomen (January 1904-December 1907), Luiz (May-June 1904), Francesco (July 1904-July 1906 and December 1906-February 1907), and Annibale (July-December 1906 and February 1907-June 1913) in The Gondoliers, the Defendant in Trial by Jury, and Prince Hilarion in Princess Ida (both July-December 1907, and October 1908-March 1909).
He left the stage at the end of the 1912-13 season, but remained with the D'Oyly Carte organization for the next six seasons as advance (publicity) manager, a position he held until June 1919.In the mid-1920s, Johnston produced Gilbert & Sullivan opera for the Lewes Operatic Society.
---
Return to I - J Index | Return to "D'Oyly Carte Who Was Who" Home Page
---