THE D'OYLY CARTE OPERA COMPANY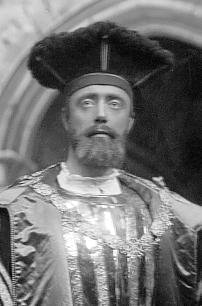 Alec Johnstone as the Lieutenant of the Tower in The Yeomen of the Guard
Alec Johnstone (1906-07)
Alec Johnstone joined the D'Oyly Carte Repertory Opera Company on tour in November 1906, giving "tryout" performances as the Lieutenant of the Tower in The Yeomen of the Guard, in anticipation of the First London Repertory Season at the Savoy.He passed muster and was cast as the Lieutenant when Yeomen opened the Season on December 8, 1906.In January 1907, The Gondoliers joined the line-up and Johnstone was given the part of Luiz.
He did not see the season through, however.In March 1907, Leo Sheffield began appearing as Luiz, and in April Johnstone left the Company.
After leaving the D'Oyly Carte, Alec Johnstone would appear intermittently on the London Stage in operas, musicals, and pantomime over the next three decades.Presumably he was on tour for a good portion of that time.
He was married to Connie Hilliard, a member of the chorus at the Savoy during the First London Repertory Season.
---
Return to I - J Index | Return to "D'Oyly Carte Who Was Who" Home Page
---