THE D'OYLY CARTE OPERA COMPANY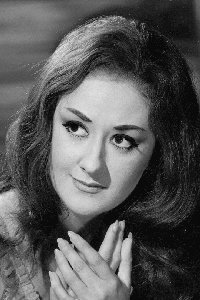 Peggy Ann Jones as Iolanthe in Iolanthe
Peggy Ann Jones (1958-73)
[Born Newark, Nottingham 1939]
Peggy Ann Jones joined the D'Oyly Carte Opera Company chorus in April 1958.For the 1960-61 season she took her first small roles, Peep-Bo in The Mikado, and Ruth in Ruddigore, while also filling in on occasion that season as Fleta in Iolanthe, Phoebe Meryll in The Yeomen of the Guard, and Tessa in The Gondoliers.She began the 1961-62 season as Peep-Bo and Ruth, added Lady Saphir in Patience in March 1962, and also filled in again for Miss Wright as Tessa.
Joyce Wright left the Company at the end of the season and in August 1962 her roles were divided among four artists, with Peggy Ann Jones getting Phoebe and Tessa, in addition to her smaller parts of Kate and Peep-Bo.She also filled in for Joanne Moore on occasion as Iolanthe.In September 1963 Ruddigore was restored to the repertoire with Miss Jones as Mad Margaret.She also moved up from Peep-Bo to Pitti-Sing in The Mikado at the same time.In November 1963, however, she yielded Tessa to Gillian Humphreys, though she would fill in for Miss Humphreys later as Tessa and on occasion as Lady Angela in Patience.
She maintained her roles of Kate in Pirates, Saphir, Pitti-Sing, Margaret, and Phoebe through the 1964-65 season, and when Miss Humphreys left at the end of the season, Miss Jones moved up to Edith in Pirates, Angela in Patience, and added Iolanthe in Iolanthe to her regular duties.She may be seen as Pitti-Sing in the 1966 film version of The Mikado.
She would play Edith, Angela, Iolanthe, Pitti-Sing, Margaret, and Phoebe exclusively for the next several years.In March 1971 she added Mrs. Partlett in The Sorcerer when that supernatural opera was revived.For her last season (September 1972-June 1973) she would drop Edith.
Although she was one of the most popular D'Oyly Carte mezzo-sopranos, her popularity did not seem to extend to the recording studio, where her only recorded role was Pitti-Sing in the 1973 Mikado.She also appeared in the 1965 BBC2 broadcast of Patience as Lady Angela, and was the voice of Mad Margaret in the 1967 Halas & Batchelor cartoon version of Ruddigore.
After leaving the D'Oyly Carte she appeared in the West End productions of Phantom of the Opera, Beethoven's Tenth, The Point, Liza of Lambeth, Evita, and Dad's Army.She was also in provincial productions of Born Again, Fiddler on the Roof, and Oliver! (as Mrs. Bumble).Her film credits include appearances in Prisoner of Honor with Richard Dreyfus, No Longer Alone, and The Adventures of Sherlock Holmes' Smarter Brother with Gene Wilder. She has also appeared in some 35 television commercials.
---
Return to I - J Index | Return to "D'Oyly Carte Who Was Who" Home Page
---