THE D'OYLY CARTE OPERA COMPANY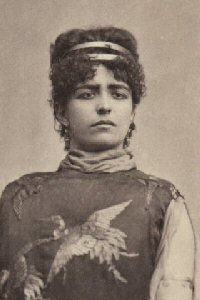 Laura Joyce as the Lady Jane in Patience
Laura Joyce (1880)
[Born Newbury, Berks. 6 May 1858; died New York City 29 May 1904]
Contralto Laura Joyce, whose real name was Hannah Joyce Maskell, studied at the Royal Academy of Music, London, and made her stage debut there at the Strand Theatre.She traveled to New York, making her first American appearance at Niblo's Garden in a ballet extravaganza called Leo and Lotos, November 30, 1872.
Her first appearance in Gilbert & Sullivan was, as one would suspect, in H.M.S. Pinafore, playing Little Buttercup in one of the many American pirated productions at Haverly's Lyceum Theatre, New York, in May 1879.Her lone engagement under D'Oyly Carte auspices was as Ruth in The Pirates of Penzance on tour with Carte's Fourth American Pirates Company (February-June 1880).
She would later appear with the Comley-Barton Opera Company as the Lady Jane in Patience (with John Howson and Marie Jansen).In 1882 she married comic baritone Digby Bell, and from that point forward was listed in programs as Laura Joyce Bell.The Bells appeared together in early 1885 as Lady Sangazure and Dr. Daly in The Sorcerer with McCaull's Opera Comique Company, again in 1885-86 as Katisha and Ko-Ko with McCaull's in a Carte-sanctioned Mikado in Philadelphia and on tour, and in 1887, again with McCaull, as Dame Hannah and Robin Oakapple in an authorized production of Ruddygore.She would continue to perform in comic opera into the 1890s, often revisiting her Gilbert & Sullivan roles.
---
Return to I - J Index | Return to "D'Oyly Carte Who Was Who" Home Page
---