THE D'OYLY CARTE OPERA COMPANY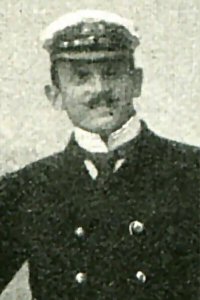 W. H. Kemble as Captain Rossiter in Monte Carlo
William H. Kemble (1888-95)
[Born Middlesex, London c.1867]
Part of a famous theatrical family, William H. Kemble played principal baritone roles with D'Oyly Carte Opera Company "E" from November 1888 to May 1890, and with D'Oyly Carte Opera Company "B" from May 1890 to July 1895.
While with Company "E," his roles were Sergeant Meryll in The Yeomen of the Guard (November 1888-February 1890), the Mikado of Japan in The Mikado (April 1889-February 1890), and Giuseppe in the first provincial production of The Gondoliers (beginning in February 1890).
Kemble transferred to Company "B" in May 1890, replacing Edward Clowes as Giuseppe, then took up Sergeant Meryll again when Yeomen joined Gondoliers on the tour in December of that year. The Nautch Girl was added in December 1891, with Kemble as Baboo Curree. The Gondoliers and The Nautch Girl were replaced by The Vicar of Bray in July 1892, Kemble taking Tommy Merton in the new opera, as well as Sir George Vernon in Haddon Hall when the Grundy & Sullivan opera was added in November. Yeomen was dropped at the end of the year.
Company "B" began 1893 with The Vicar of Bray and Haddon Hall, but dropped The Vicar in April. In July Patience was added with Kemble playing Archibald Grosvenor. Both Patience and Haddon Hall gave way to the newest Savoy Opera, Utopia Limited, in February 1894. Utopia toured exclusively, with Kemble as Mr. Goldbury, until October when Patience was added, Kemble as Grosvenor again.
H.M.S. Pinafore was added to the tour in January 1895, with Kemble taking Captain Corcoran. Both Patience and Utopia were dropped in favor of The Chieftain in February, with Kemble as Ferdinand de Roxas in the revived Burnand & Sullivan work. The Mikado was added in April, and this time Kemble played Pooh-Bah. He also played Sergeant Bouncer when Cox and Box was added as a curtain-raiser in May, before leaving the D'Oyly Carte in July. Later that year he appeared on tour with George Edwardes' Company as Harold in Gilbert & Carr's "His Excellency".
Kemble later returned to London as Captain Rossiter in the musical comedy Monte Carlo (Avenue, 1896). Between 1900 and 1905 he appeared in many legitimate works, but no musical plays. His last role in London was King Phanor in a revival of W. S. Gilbert's fairy comedy The Palace of Truth (Great Queen Street Theatre, May-June 1905). It was produced by Gilbert himself.
William F. Kemble was the nephew of D'Oyly Carte contralto Alice Barnett. He married fellow D'Oyly Carte artist Nancy Pounds.
---
K Index | "Who Was Who" Homepage
---