THE D'OYLY CARTE OPERA COMPANY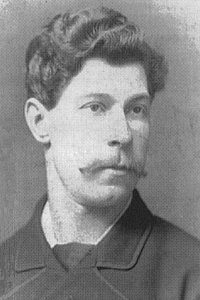 Sebastian King
Sebastian King (1884-87)
[Born 1859]
Sebastian King, whose real name was Samuel Hooke King, toured with several D'Oyly Carte Companies, appearing from time to time in smaller base-baritone parts. He first appears in the programs of Mr. D'Oyly Carte's "C" (Repertory) Company from July 28 to December 6, 1884, as Bob Beckett in H.M.S. Pinafore, and again from April 6 to July 11, 1885. He was probably in the chorus of Carte's First American Mikado Company when it opened at the Fifth Avenue Theatre, New York, in August 1885, the same month he married fellow D'Oyly Carte artist Louise Augarde. In January he would replace G. Byron Browne as Pish-Tush, playing that noble lord in New York and Boston before the Company returned to England in May 1886, where he appeared for two weeks as Bill Bobstay in Pinafore and Pish-Tush.
Then, as Mr. D'Oyly Carte's "Continental Company," they left to tour of Germany and Austria in The Mikado from May 1886 to January 1887, King as Pish-Tush. In February 1887 he was back in New York with Carte's First American Ruddygore Company. They played Ruddygore at the Standard Theatre until April 1887 with King filling in at some point during the run for Leo Kloss as Old Adam Goodheart. It appears to have been his last role with the D'Oyly Carte organization.
King returned to England where he appeared later that year in London at the Prince of Wales's Theatre as John Tuppitt in Stephenson & Cellier's Dorothy and as Young Jones in Jubilation, a one-act companion piece on the same program. In 1889 at the Lyric he filled in on occasion as Alderman Shelton in Stephenson & Cellier's Doris, then created the parts of Private Smith in Stephens & Solomon's The Red Hussar and Lawkins Delaney Johnson in the companion piece Warranted Burglarproof (December 1889-April 1890).
In December 1890 he was Geronte in Gounod's comic opera The Mock Doctor (Globe Theatre, six performances). He was one of two artists to appear as Curius in A Greek Slave (Daly's, June 1898-April 1899), and as Rube Fairway in A Country Girl (Daly's, January 1902-January 1904). King later worked in London as an extra in The Sins of Society (Drury Lane, 1907) as the Schoolmaster in The Absentee (Globe, 1908), and as an extra in Violette (Lyric, 1918).
---
K Index | "Who Was Who" Homepage
---