THE D'OYLY CARTE OPERA COMPANY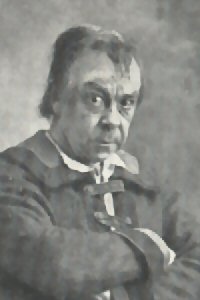 Mark Kinghorne as Silas Simkins in Merrie England
Mark Kinghorne (1902)
[Born London 14 Jun 1850, died London 4 Nov 1906]
Mark Alexander Mackenzie Kinghorne studied music and elocution at Birkbeck Institute. He made his first appearance on the stage at the Strand in 1867, silently carrying a spear in a William Brough burlesque of Pygmalion. In his early days he found work as an actor (in stock at Birmingham and Plymouth), sailor, engineer, clerk, clown (in a traveling circus), corner man, and bass singer in a minstrel troupe. At one point he had the memorable experience of playing the Gravedigger in a series of living pictures that formed the background to a performance of Hamlet.
In 1873 Kinghorne returned to London to play in stock at the Surrey Theatre. After engagements at the Oxford and other music halls (where he performed several songs and sketches of his own composition), he made his first hit in 1874 as Trenitz in Madame Angot with Mrs. Liston's Company. In 1875 he toured America with the Alice Oates Opera Company, then spent six years (1877-83) with Edward Terry as stage manager, musical director, and principal comedian. He toured India, Australia, and New Zealand (1884-85) in Shakespeare and other old comedies. He was at the Haymarket in 1886 with Kate Vaughan, followed by a tour with the Vaughan-Conway Company.
He returned to London in 1887, appearing at the Gaiety as the jailer in Loyal Love. From that point forward until his death in 1906 he played as a comedian and character actor with considerable success in many West End theatres. His one engagement with the D'Oyly Carte Opera Company came in April 1902 when he created the part of Silas Simkins in Hood and German's Merrie England at the Savoy. He did not remain for the entire run:by October he had moved to the Adelphi as MacTodd in a play called Captain Kettle. His last appearance was as Dr. Fergus Munro in The Macleans of Bairness (Criterion, June 1906).
---
K Index | "Who Was Who" Homepage
---