THE D'OYLY CARTE OPERA COMPANY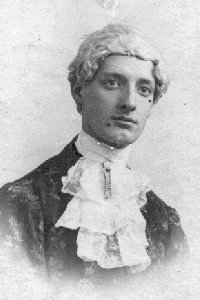 Oscar Langwade in Tales of Hoffmann
Oscar Langwade (1917-19, 1919-20)
[Born King's Lynn 1895, died Eastbourne 1966]
Oscar Langwade was a choirboy in his youth, appearing as as solo soprano at church festivals throughout Norfolk. During World War I he served in the army and was later transferred to munitions work.
He joined the D'Oyly Carte Repertory Opera Company as a chorister and understudy in October 1917, serving the until January 1919, when he left the main Company. He appeared on numerous occasions during this tour of duty as Florian in Princess Ida and Luiz in The Gondoliers, and regularly in those parts between August and November 1918.
Langwade later joined the newly-formed D'Oyly Carte "New" Opera Company as principal baritone. He toured as Strephon in Iolanthe, Pish-Tush in The Mikado, and Luiz from September 1, 1919, until May 1920, when he again left the D'Oyly Carte organization. That month he, and several other ex-D'Oyly Carters, went on a tour of South Africa. They opened in Johannesburg in June 1920. Langwade had named parts in six of the seven operas on the tour:the Counsel to the Plaintiff in Trial by Jury, Bob Beckett in H.M.S. Pinafore, Samuel in The Pirates of Penzance, Strephon in Iolanthe, the Lieutenant of the Tower in The Yeomen of the Guard, and Luiz in The Gondoliers. He decided to remain in the country and eventually joined the British South Africa Company as an overseer on a citrus plantation. After 30 years service he retired to England to live in Sussex.
---
L Index | "Who Was Who" Homepage
---