THE D'OYLY CARTE OPERA COMPANY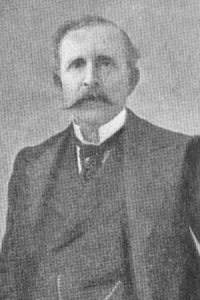 Arthur Law
Arthur Law (1881-82)
[Born Northrepps, Norfolk 22 Mar 1844, died Parkstone, Dorset 2 Apr 1913]
After serving in the Royal Scots Fusiliers for eight years (1864-72), Arthur Law went into acting, making his debut at the Edinburgh Royal. After two years touring the provinces he came to London in 1874 and joined the German Reed Company. While performing with the Reeds he wrote some nineteen short pieces which found their ways into the German Reed repertoire.
In 1881 he wrote a curtain raiser for D'Oyly Carte and the Opera Comique (Uncle Samuel, music by George Grossmith). It ran, along with Patience, from May 3 to October 8, 1881, and Law himself appeared as John Bird. Law later appeared at the Savoy as Mr. Wranglebury in the Desprez & Faning companion piece Mock Turtles (February-November 1882), and as Major Murgatroyd in Patience (March 1882), substituting for Frank Thornton.
This marked Law's only association with the D'Oyly Carte organization. He would henceforth devote himself to writing for the stage. His first "serious" drama, Hope, was produced at the Standard in 1882. That year he also wrote a musical farce, Mr. Guffin's Elopement, in collaboration with George Grossmith (Toole's, October 1882).
Law went on to write scores of plays, his best known being an adaptation of The Mystery of a Hansom Cab (Princess's, 1888). His other popular works included The Judge (Terry's, 1890), The Magic Opal (Lyric and Prince of Wales's, 1893), The New Boy (Terry's and Vaudeville, 1894), The Sea Flower (Comedy, 1898), A Country Mouse (Prince of Wales's, 1902), The Bride and Bridegroom (New, 1904), and Artful Miss Dearing (Terry's, 1909).
Law was married to actress Fanny Holland, with whom he appeared with German Reed at the Gallery of Illustration and St. George's Hall. Miss Holland also appeared briefly at the Opera Comique as Josephine in H.M.S. Pinafore (December 1879-January 1880).
---
L Index | "Who Was Who" Homepage
---