THE D'OYLY CARTE OPERA COMPANY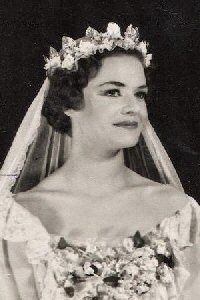 Joan Lawrence as the Plaintiff in Trial by Jury
Joan Lawrence (1956-62)
[Born Dunstable, Bedfordshire 8 Oct 1937]
A student at Trinity College of Music, London, from 1954 to 1956, Joan Lawrence won the Gilbert & Sullivan Challenge Cup at Central Hall, Westminster, in 1956. She then joined the D'Oyly Carte Opera Company as a soprano chorister in September of that year.
While with the D'Oyly Carte, Miss Lawrence understudied roles in ten operas. She filled in briefly for Jean Barrington as Rose Maybud in Ruddigore during the 1958-59 season, and eventually (in May 1960) assumed the part of the Plaintiff in Trial by Jury, following the promotion of Jennifer Toye to principal soprano. During the 1960-61 season, however, she yielded the Plaintiff to Anne Sessions, but assumed the small part of Celia in Iolanthe when Vera Ryan departed in February 1961. When Princess Ida was restored to the D'Oyly Carte repertoire in November 1961, Miss Lawrence added Sacharissa to her duties. She left the Company in March 1962.
After leaving the D'Oyly Carte organization, Miss Lawrence continued to sing in amateur productions of Gilbert & Sullivan operas and other musical shows until 1972, when she returned to the professional stage in a national tour of Desert Song with John Hanson. She later sang in Maggie with Dame Anna Neagle, whom Joan understudied (Shaftesbury Theatre, London, 1975), Tarantara! Tarantara! with Donald Adams and Thomas Round (national tour, 1977), "Gilbert & Sullivan for All" concerts, also with Adams and Round, Cavalcade (Redgrave Theatre, Farnham, 1981), Ivor (Playhouse Theatre, Salisbury, 1982), and Perchance to Dream (national tour, 1985).
---
L Index | "Who Was Who" Homepage
---