THE D'OYLY CARTE OPERA COMPANY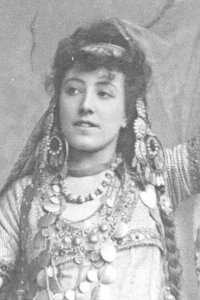 Nellie Lawrence as Cheetah in The Nautch Girl
Nellie Lawrence (1888-91)
[Born c.1861, died 4 Nov 1912]
Nellie Lawrence first appeared in a D'Oyly Carte program as Isabel in the March-June 1888 revival of The Pirates of Penzance. She was surely in the chorus for the ensuing revival of The Mikado, and then for the initial production of The Yeomen of the Guard (October 1888-November 1889), in which she filled in briefly for Rose Hervey as Kate in August 1889.
She then created the small part of Fiametta in The Gondoliers (December 1889-June 1891), though she filled in on occasion as Casilda in December 1889 and July-August 1890, and on one night in August 1890 as Giulia. Miss Lawrence was then given another named part, Cheetah, in the initial production of The Nautch Girl, beginning in June 1891. It was her last part at the Savoy. She left in November 1891 or thereabouts and was replaced by Edith Briant.
After leaving the D'Oyly Carte, Miss Lawrence had one further appearance in a London program, as a dancer in the "military musical comedy" The Officers' Mess (and How They Got Out of It) at Terry's Theatre in 1905.
---
L Index | "Who Was Who" Homepage
---