THE D'OYLY CARTE OPERA COMPANY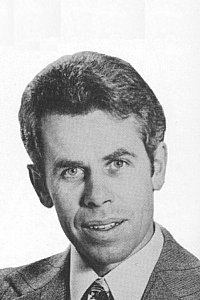 Adrian Lawson
Adrian Lawson (1962-65, 1971, 1973)
[Born Manchester]
Adrian Lawson was engaged by the D'Oyly Carte Opera Company in April 1962 to understudy John Reed in the principal comic baritone roles, in anticipation of John Cartier's departure in June. Between August 1962 and June 1965, when he left the Company, Lawson would fill in for Reed on occasion as Sir Joseph Porter in H.M.S. Pinafore, the Lord Chancellor in Iolanthe, Ko-Ko in The Mikado, Robin Oakapple in Ruddigore, and the Duke of Plaza-Toro in The Gondoliers. In September 1963 he took over the small parts of Major Murgatroyd in Patience, Second Citizen in The Yeomen of the Guard, and Annibale in The Gondoliers. During the 1963-64 season he also filled in from time to time for Jeffrey Skitch as the Learned Judge in Trial by Jury. In February 1965 he added Antonio in The Gondoliers to his regular duties, while retaining the tiny part of Annibale at the same time in the same opera.
Lawson left the D'Oyly Carte Opera Company in June 1965. He returned briefly to the chorus in July-August 1971 for special productions of Princess Ida, The Mikado, The Yeomen of the Guard, and The Gondoliers at Royal Festival Hall. In January 1973 he rejoined the Company yet again as Reed's understudy, replacing the departing Howard Williamson. This time he played Major General Stanley in The Pirates of Penzance on a regular basis, as well as Major Murgatroyd, Second Citizen, and Antonio/Annibale. He also substituted as Ko-Ko, the Duke, and Jack Point in The Yeomen of the Guard, before leaving the Company for the final time at the end of the season in June 1973.
In November 1981, he performed "Adrian Lawson's Bab Ballads" for the Gilbert & Sullivan Society in London. According to The Savoyard (March 1982), it was an entertainment with piano accompaniment devised by Lawson himself, alternating from Gilbert's "Bab Ballads" themselves to their "echoes in the operas." In the summer of 1988 Lawson was one of several former D'Oyly Carters to present G&S entertainment on a North Cape cruise.
---
L Index | "Who Was Who" Homepage
---