THE D'OYLY CARTE OPERA COMPANY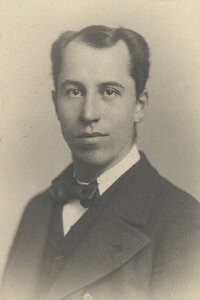 Alec Lee
Alec Lee (1890, 1896-1899, 1900)
[Born Bethnal Green 7 Jun 1870, died Brondesbury, London 23 Apr 1958]
Alec Lee (full name Harrie Alexander Lee) was engaged by D'Oyly Carte to appear in January 1890, as Giorgio in the first American production of The Gondoliers at the Park Theatre, New York. The production was a popular, critical, and financial disaster. It closed in February, and when it was remounted at Palmer's Theatre later that month Lee was no longer in the Company.
Over the next several years Lee sang extensively in concerts and pursued his musical education. At the Guildhall School of Music he appeared as Arac in an operatic class production of Princess Ida (December 1895) and the following year was rehired by the D'Oyly Carte organization.
Lee's next role was with D'Oyly Carte Opera Company "C" in June 1896 as Antonio in The Gondoliers, his only named part in a repertoire of eleven operas. From December 1896 to June 1897 he toured South Africa with another D'Oyly Carte Company, appearing as Antonio again, and also as Second Yeoman in The Yeomen of the Guard and Calynx in Utopia Limited. When Company returned to Southport, England as D'Oyly Carte Opera Company "B" in July 1897, Lee appeared there as Antonio, but next month transferred to D'Oyly Carte Opera Company "C" in the same role (shared with Powis Pinder), and Second Yeoman. When Company "C" added Utopia Limited to its repertoire in November 1897, Lee again assumed the small part of Calynx.
Throughout 1898 Alec Lee appeared again as Calynx, and also filled in as Second Yeoman in June while Pinder was deputizing as the Lieutenant of the Tower in The Yeomen of the Guard. Lee played Calynx, and also deputized as Antonio, as Arac in Princess Ida, and as the Mikado of Japan in The Mikado in January 1899. He left the Company for a spell in the spring of 1899, married former D'Oyly Carte soprano Una Weston that October, and returned to the Company the following year. Between January and December 1900, Lee was one of three performers to appear with Company "C" as Antonio.
Alec Lee left the D'Oyly Carte to go into business, eventually opening a drapery shop in Kensal Rise. He retained his love of Gilbert & Sullivan throughout his life, however, appearing in amateur productions in Willesden with the Bon Accord company.
---
L Index | "Who Was Who" Homepage
---