THE D'OYLY CARTE OPERA COMPANY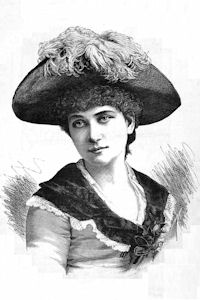 Esme Lee as Erminie in Erminie
Esme Lee (1882-85, 1892-93, 1895-98)
[Born London c.1862]
Esme Lee began her career as a concert singer before making her first appearance in comic opera at the Prince of Wales's Theatre, Birmingham, as the title character in Olivette in 1881. This was followed by an engagement at the Gaiety Theatre, Dublin, as Lalla Rookh.
She then worked as principal soprano with several D'Oyly Carte touring companies between April 1882 and February 1898. Her first engagement was as Mabel with Mr. D'Oyly Carte's No. 1 "Pirates" Company between April and December 1882. When the Company was on vacation for most of July, Miss Lee filled in as Mabel and as Josephine in H.M.S. Pinafore with Carte's "B" Company.
From December 1882 to July 1883 she toured as Gretchen with Carte's "Rip Van Winkle" Company, then joined D'Oyly Carte's "Pinafore" and "Pirates" Company where she played Josephine and Mabel from July to September, when she transferred to Carte's No. 1 "Iolanthe" Company as Phyllis. He next role was Princess Ida with Mr. D'Oyly Carte's "D" ("Princess Ida" No. 1) Company in the first provincial production of Princess Ida from February to December 1884. After a few months off, she was Josephine and Mabel again with Carte's "C" (Repertory) from April to July 1885, when the Company was disbanded.
Miss Lee left the D'Oyly Carte organization at this point, but continued to appear in comic opera, touring in Erminie in 1886. She returned to a D'Oyly Carte production:though not a D'Oyly Carte Opera Company production:as Marie d'Angleterre in Messager's The Basoche at the Royal English Opera House in 1891. In October 1892 she joined D'Oyly Carte Opera Company "D" as Winifred in The Vicar of Bray and, from December onward, as Dorothy Vernon in Haddon Hall. The tour ended in December 1893.
She left the D'Oyly Carte at that point, appearing in London in June and July 1894 as Sigrune in Wagner's Die Walkure at Drury Lane. Miss Lee returned to the D'Oyly Carte organization, with Company "C" (a repertory company), in January 1895. Over the next two years (with a month or two off in late spring and early summer 1896), she appeared as Aline in The Sorcerer, Josephine in Pinafore, Mabel in Pirates, Patience in Patience, Phyllis in Iolanthe, Princess Ida in Princess Ida, Yum-Yum in The Mikado, Elsie Maynard in The Yeomen of the Guard, and Gianetta in The Gondoliers until December 1896.
After a few months off, she rejoined Company "C" in March 1897, touring as Phyllis, Yum-Yum, Elsie, and Princess Lucile Chloris, then Felice, in His Majesty until July. After another break, she took her last assignment with D'Oyly Carte Opera Company "B" in December 1897 as Aline, Phyllis, Yum-Yum, and Elsie. She played Yum-Yum and Elsie in January and February 1898, then was replaced by Isabel Jay.
Esme Lee was married to D'Oyly Carte business manager Robert Redford. During the 20th century she appeared occasionally in London:as Duncan in the one-act play The Wilson Trial (single performance at the Court Theatre, December 1909), as Jessica in the pageant Shakespeare's Dream (one matinee, Princes, February 1912), and Anset in the four-act play Joseph and his Brethren (His Majesty's, September 1913-January 1914).
---
L Index | "Who Was Who" Homepage
---