THE D'OYLY CARTE OPERA COMPANY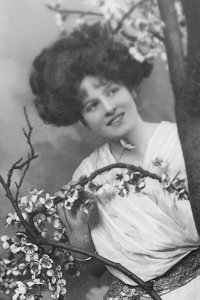 Lena Leibrandt
Lena Leibrandt (1900-03)
[Born Hereford c.1879
Lena Leibrandt was an amateur soubrette and dancer with the Exeter Dramatic Society before studying singing at the Guildhall School of Music.
She was engaged by Mrs. D'Oyly Carte and toured with D'Oyly Carte Opera Company "D" as a member of the chorus in The Rose of Persia from August to December 1900. In December she transferred to Carte's Company "C," touring as "Sigh-of-the-Sea" in The Rose of Persia until September 1901. She then returned to Company "D," reformed that month as the "Savoy Touring Company," where she appeared as Sheila in The Emerald Isle until May 1902, when the tour ended and the Company was disbanded. She then transferred to the Savoy where she appeared as a dancer in Merrie England. In December 1902, she took over the small part of Kate in that opera, replacing Alice Coleman. It appears she left the Savoy in January 1903 when Merrie England closed.
Beginning in December 1903 she appeared as Lady Gussie in The Earl and the Girl at the Adelphi. The Earl and the Girl ran for nearly a year, but she was replaced at some point during the run. Miss Leibrandt also performed simultaneously in 23 matinee performances of Little Hans Anderson at the Adelphi (December 1903-January 1904). Her only other known appearance on the London Stage was a dancer in the musical play Nellie Neil (Aldwych, January-April 1907). She also appeared in newspapers and magazines as a model in advertisements for Pears Soap.
Miss Leibrandt was married to D'Oyly Carte baritone M. R. Morand.
---
L Index | "Who Was Who" Homepage
---