THE D'OYLY CARTE OPERA COMPANY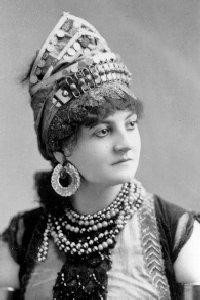 Rose Leighton as the Gipsy Queen in The Bohemian Girl
Rose Leighton (1890)
Rose Leighton was a veteran of comic opera and Gilbert & Sullivan before making her first appearance under D'Oyly Carte auspices as Inez in The Gondoliers at New York's Palmer's Theatre in February 1890. She was one of many changes made after an unsuccessful opening at the Park Theatre the month before. She left the Company in March or April 1890, shortly before the run was completed.
Her first appearance on the New York Stage was as the Queen of Tragedy in a spectacular called Babes in the Wood, or, Who Killed Cock Robin? (Eagle Theatre, December 1877). On January 23, 1879, she was New York's second Hebe in one of many perversions of H.M.S. Pinafore to hit the city, this one at the Lyceum.
Subsequent Gilbert & Sullivan roles included Mrs. Partlett in The Sorcerer (McCaull Opera Comique Co., 1885), Kate in The Pirates of Penzance (McCaull Opera Comique Co., 1885), Lady Jane in Patience (Mahn's Comic Opera Co., 1882), and Lady Saphir in Patience (McCaull Opera Comique Co., 1885). She would later appear with J. C. Duff's Company in Alfred Cellier's Dorothy, with DeWolf Hopper in Castles in the Air, and with Lillian Russell in Girolfe-Girolfla.
---
L Index | "Who Was Who" Homepage
---