THE D'OYLY CARTE OPERA COMPANY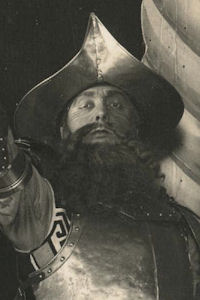 Charles Leslie as Scynthius in Princess Ida
Charles Leslie (1917-38)
Bass-baritone Charles Leslie was a member of the D'Oyly Carte Opera Company chorus for over twenty-one years:from January 1917, when he joined what was then the D'Oyly Carte Repertory Opera Company, to July 1938. He made occasional appearances as the Lieutenant of the Tower in The Yeomen of the Guard (May 1920), the Earl of Mountararat in Iolanthe (1920-21 season), and Arac in Princess Ida (February 1922), before assuming three smaller roles (Scynthius in Princess Ida, First Citizen in Yeomen, and Giorgio in The Gondoliers) in January 1923.
He yielded First Citizen to J. Ivan Menzies in July 1923, but reclaimed the part during the following (1924-25) season. By August 1926, however, Leslie was left with First Citizen as his only named part, as Scynthius and Giorgio were given to newcomer Ronald Stear. In July 1927 Leslie lost First Citizen as well. He was given Bob Beckett in H.M.S. Pinafore in October 1927, following the departure of Patrick Colbert, but gave that part up in June 1928, at the end of the season.
For the rest of his D'Oyly Carte career, Leslie appears to have served exclusively in the chorus. He was married to fellow chorister Nancy Ray. Winfred Lawson, in her autobiography "A Song to Sing O!," reported that by July 1953 he was wheelchair-bound with a crippling case of rheumatism.
---
L Index | "Who Was Who" Homepage
---