THE D'OYLY CARTE OPERA COMPANY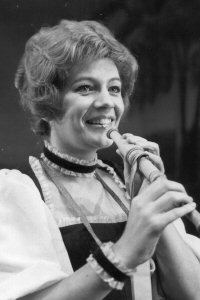 Barbara Lilley as Phyllis in Iolanthe
Barbara Lilley (1975-81)
[Born Saltburn, Yorkshire]
Barbara Lilley trained at the Guildhall School of Music from 1968 to 1973, where, in her final year, she won the Countess of Munster Scholarship. She made her professional debut as Barbarina in The Marriage of Figaro with Phoenix Opera, and later worked with the English National Opera Company and Opera Rara. She appeared in the pantomime Beauty and the Beast at the famous Players' Theatre, London, in 1973-74, marrying fellow performer Peter Lyon on the last day of the show. (Peter Lyon would join the D'Oyly Carte Opera Company as principal baritone in 1979.)
She joined the D'Oyly Carte Opera Company in September 1975 as principal soprano, replacing the departed Pamela Field, and immediately assumed the roles of Josephine in H.M.S. Pinafore, Patience in Patience, Phyllis in Iolanthe, Elsie Maynard in The Yeomen of the Guard, and Gianetta in The Gondoliers. When Princess Ida was revived in February 1977 she took the title role; she gave a single performance as the Plaintiff in Trial by Jury in December 1978 at Middle Temple Hall before the Queen Mother Elizabeth; and when Julia Goss left the Company in April 1979 she took on Yum-Yum in The Mikado.
During the 1979-80 season she appeared as Mabel in The Pirates of Penzance for the first time, sharing the part with newcomer Evette Davis. Miss Davis took over Josephine in Pinafore that year, but left the Company in August 1980. With Evette Davis's departure, the Company brought in Jill Washington in September and reshuffled the soprano roles. Barbara Lilley would play Aline in The Sorcerer for the first time, as well as Josephine, Phyllis, and Elsie for the 1980-81 season. She would yield Josephine to Vivian Tierney in September 1981 and leave the Company the next month.
Barbara Lilley may be heard on the D'Oyly Carte's 1976 recording of The Grand Duke (as the Princess of Monte Carlo), the 1977 Gondoliers (as Gianetta), and the 1979 Yeomen of the Guard (as Elsie Maynard).
---
L Index | "Who Was Who" Homepage
---