THE D'OYLY CARTE OPERA COMPANY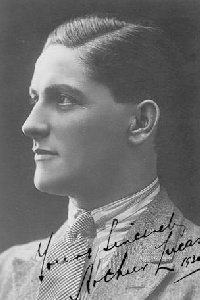 Arthur Lucas
Arthur Lucas (1918-20)
[Born 1889, died 29 Jan 1973]
Arthur Lucas joined the D'Oyly Carte Repertory Opera Company as principal tenor in December 1918, immediately assuming the roles of the Duke of Dunstable in Patience, Earl Tolloller in Iolanthe, Prince Hilarion in Princess Ida, and Leonard Meryll in The Yeomen of the Guard, and sharing Ralph Rackstraw in H.M.S. Pinafore with Edward McKeown during his first season.
During the 1919-20 season he appeared on a more or less regular basis as the Defendant in Trial by Jury, Ralph, Frederic in The Pirates of Penzance, the Duke in Patience, Tolloller, Hilarion, Leonard, and Luiz in The Gondoliers, though each of the parts was shared with other artists at one time or another. On March 31, 1920, he married D'Oyly Carte principal soubrette Catherine Ferguson.
Lucas continued to appear as the Duke, Tolloller, Hilarion, Leonard, and Luiz as the new season began in July 1920, but left the following month to pursue opportunities in Australia. He returned to the London Stage in April 1928 as David Garrick in Blue Skies at the Picadilly Theatre. While he had several subsequent London roles, his greatest triumphs were, in his own estimation, achieved on tour where he played the lead in Noel Coward's Bitter-Sweet, and had 2,000 performances as the Red Shadow in The Desert Song.
Lucas was for twenty years the secretary of the Stage Golfing Society. The Lucas's fiftieth wedding anniversary celebration was reported in The Savoyard in January 1971.
---
L Index | "Who Was Who" Homepage
---