THE D'OYLY CARTE OPERA COMPANY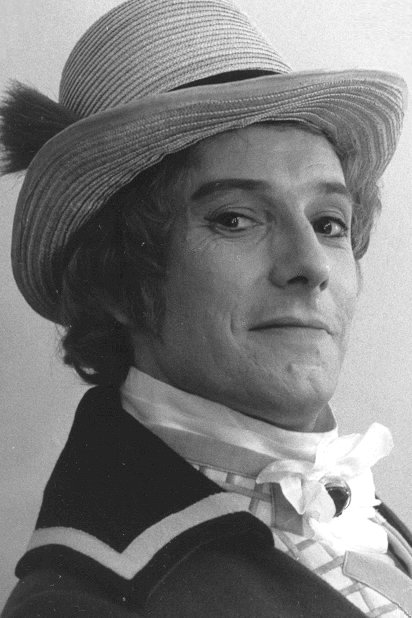 Peter Lyon as Robin Oakapple in Ruddigore
Peter Lyon (1979-82)
[Born Leytonstone, London]
After training at the London Opera Centre, baritone Peter Lyon became a freelance opera singer. He worked with Scottish Opera for All (1969-71), Scottish Opera (main company), Opera Rara, English National Opera (1972-75), Belfast Northern Opera, Phoenix Opera, and at Glyndebourne, Covent Garden, and the Camden Opera Festival. He was a founding member of the English Music Theatre. Lyon performed in the pantomime Beauty and the Beast at the famous Players' Theatre, London, along with Barbara Lilley in 1973-74. They were married on the final day of the show.
While Miss Lilley joined the D'Oyly Carte Opera Company in 1975, Peter Lyon did not get his opportunity until January 1979, taking his first named part (Pish-Tush in The Mikado) that month. In February he appeared for the first time as Strephon in Iolanthe, and in March gave his first performance as Captain Corcoran in H.M.S. Pinafore. Lyon became the full-time Pish-Tush in March and when Michael Rayner left the Company in April he took exclusive responsibility for Captain Corcoran. With Gareth Jones's departure in September 1979, Lyon took sole custody of Strephon and added Giuseppe in The Gondoliers as well. He would yield Captain Corcoran, however, to newcomer Clive Harre in October 1979.
When Ruddigore was revived in February 1981, in what was a dramatic break with precedent, Peter Lyon became the first lyric baritone in Company history to be given the part of Robin Oakapple, heretofore played by the comic baritone. The move, and Lyon's interpretation of the part, met with widespread approval. Peter Lyon remained with the Company until its closure. His only D'Oyly Carte recording was the Company's "last night" performance on February 27, 1982, in which he sang several concerted numbers and one solo:Pish-Tush's "Our Great Mikado."
---
L Index | "Who Was Who" Homepage
---