THE D'OYLY CARTE OPERA COMPANY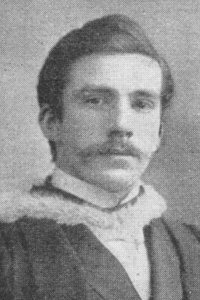 Sterling MacKinlay
Sterling MacKinlay (1902)
[Born London 7 Aug 1876, died London 10 Jan 1952]
Bass Malcolm Sterling MacKinlay, son of the well-known contralto Antoinette Sterling, made his first appearance on the concert stage at the Queen's Hall ballad concerts in 1900. He earned his M.A. from Oxford before joining D'Oyly Carte Opera Company "D" on tour. In his only engagement with the D'Oyly Carte organization, he appeared as Sergeant Pincher in The Emerald Isle from April to June 1902.
Primarily a concert artist, he gave over 40 recitals in London alone before abandoning professional singing altogether in 1904 to pursue a career as a singing teacher and lecturer. He later formed a ladies' choir in 1911, then founded his own operatic society in 1912, producing such familiar works as Hood & German's Merrie England and Gilbert & Sullivan's Princess Ida for the purpose of giving his students confidence and experience appearing before the public. On at least two occasions (in 1915 and 1917) he directed performances of Gilbert & German's Fallen Fairies using the revised title Moon Fairies.
MacKinlay also wrote a number of books including "Antoinette Sterling and Other Celebrities," "Garcia the Centenarian and His Times," "The Singing Voice and Its Training," and "Light Opera."
---
M Index | "Who Was Who" Homepage
---