THE D'OYLY CARTE OPERA COMPANY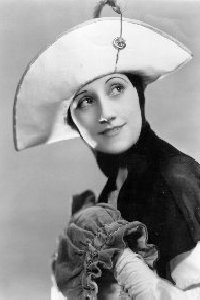 Rita Mackay as Casilda in The Gondoliers
Rita Mackay (1930-32)
Rita Mackay joined the D'Oyly Carte Opera Company in March 1930, taking the small parts of Celia in Iolanthe, Lady Psyche in Princess Ida, and Fiametta in The Gondoliers, and (over the next few months) appearing on occasion in leading soprano roles as Yum-Yum in The Mikado, Elsie Maynard in The Yeomen of the Guard, and Gianetta in The Gondoliers.
In July 1930 she moved up to principal soprano, replacing Sylvia Cecil who had left at the end of the preceding season. Her roles for the 1930-31 season would be Josephine in H.M.S. Pinafore, Mabel in The Pirates of Penzance, Lady Ella in Patience, Phyllis in Iolanthe (shared with Winifred Lawson), Lady Psyche, Yum-Yum, Rose Maybud in Ruddigore (shared with Miss Lawson), and Gianetta.
Miss Lawson left the Company in June 1930 and Muriel Dickson joined as new lead soprano. Rita Mackay would appear as Josephine, Mabel, Phyllis, Princess Ida in Princess Ida, Yum-Yum, Rose (as an occasional substitute for Miss Dickson), and Casilda in The Gondoliers. But in February 1932 Winifred Lawson rejoined the Company and Rita Mackay was the odd woman out. She left the D'Oyly Carte Opera Company that month.
Later that year she appeared in London in a musical entertainment called Savoy Follies with Stanley Holloway (Savoy, July-September 1932), and as the Fairy Heartsease in the pantomime Mother Goose (Daly's, December 1932-February 1933). Her only subsequent part in London was Molly Parfitt in the operetta By Appointment at the New Theatre, October-November 1934.
Rita Mackay may be heard as the Lady Ella on the D'Oyly Carte HMV recording of Patience made in 1930.
---
M Index | "Who Was Who" Homepage
---