THE D'OYLY CARTE OPERA COMPANY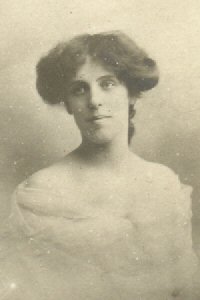 Bessie Mackenzie
Bessie Mackenzie (1903-04, 1905)
Soprano Bessie Mackenzie began her D'Oyly Carte career as Kate in The Yeomen of the Guard and Casilda in The Gondoliers on tour with D'Oyly Carte Opera Company "E" from March to December 1903. Company "E" was then disbanded, and Miss Mackenzie joined the remaining D'Oyly Carte Principal Repertory Opera Company, where she took over as Giulia in The Gondoliers in early 1904, filling in at least once as Gianetta in the same opera. She later (July 1904) assumed several smaller soprano roles:the Plaintiff in Trial by Jury, Isabel in The Pirates of Penzance, the Lady Ella in Patience, Celia in Iolanthe, Lady Psyche in Princess Ida, Kate in Yeomen, and Casilda.
She appears to have left in December 1904, but returned in July 1905 to most of the same roles:Plaintiff, Ella, Fleta in Iolanthe, Psyche, Kate (Yeomen), and Casilda. Beginning in August 1905, she filled in on occasion in the principal soprano roles of Patience in Patience, Phyllis in Iolanthe, Yum-Yum in The Mikado, Elsie Maynard in Yeomen, and Gianetta in The Gondoliers. Her D'Oyly Carte career ended, however, the following month.
After leaving the D'Oyly Carte, she toured for a spell as a concert artist with another ex-D'Oyly Carter — baritone John Wills.
---
M Index | "Who Was Who" Homepage
---