THE D'OYLY CARTE OPERA COMPANY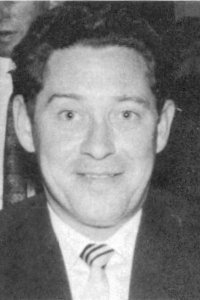 Gordon Mackenzie
Gordon Mackenzie (1954-56, 1962-65, 1965-70)
[Born Edinburgh 29 Dec 1925, died Greenock, Scotland 25 Aug 1995]
Gordon Mackenzie, real name Michael Lynch, was originally a plumber who studied voice and reached the finals of the Great Caruso Song Contest. He was known as Michael Lynch when he first served in the D'Oyly Carte Opera Company chorus from January 1954 until April 1956.
Following a chance meeting with Robert Wilson in New York, Mackenzie left the D'Oyly Carte Opera Company in 1956 to pursue a career in variety and music hall. As a headliner with the White Heather Group, he toured the major British variety theatres and did the White Heather Concert tours of the United States and Canada.
Gordon Mackenzie made series of records for HMV, International Artistes, and the AVOCA label. After leaving the White Heather Group, he embarked on a successful solo career and was considered one of the best-loved Scottish tenors from the golden age of variety. A few of the songs associated with him, both on record and on stage, include "Bonnie Mary of Argyle," "March of the Cameron Men," "The Royal Scots Fusiliers," and a ballad of his own, "Forever." He also recorded several duets with Robert Wilson.
In August 1962, with variety entertainment by then clearly in decline, Gordon Mackenzie rejoined the D'Oyly Carte Opera Company. In addition to his chorus duties, he took the small parts of First Yeoman in The Yeomen of the Guard (1962-65) and Francesco in The Gondoliers (1963-65). He left the Company briefly in May 1965 for one last variety fling, but returned again in December.
From December 1965 to August 1970, he served in the chorus, appearing in the 1966 film version of The Mikado. He reclaimed First Yeoman in 1968 and Francesco in 1969, and also filled in on occasion in the 1969-70 season as Mr. Box in Cox and Box and the Defendant in Trial by Jury. He also served as assistant manager of the Company from September 1969 to May 1980, and business manager from May 1980 until the Company ceased operations in February 1982.
In 1986 he married long-time D'Oyly Carte contralto Beti Lloyd-Jones.
---
M Index | "Who Was Who" Homepage
---