THE D'OYLY CARTE OPERA COMPANY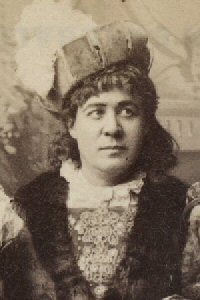 Wallace Macrery as Prince Hilarion in Princess Ida
Wallace Macrery (1880)
Tenor Wallace Macrery was engaged by D'Oyly Carte to appear as Frederic with his Second American Pirates Company in Philadelphia from February 9 to April 10, 1880. Once the run in Philadelphia ended, Macrery joined Carte's First Pirates Company on tour, taking over as Frederic until June 19, 1880, when the Company gave its last performance in Chicago.
He had earlier appeared as Ralph Rackstraw with the Standard Opera Company in a tour of New England beginning in April 1879, and then as Captain Corcoran (!) when the Company returned to New York and the Standard Theatre in October-November 1879.
Macrery had a comic opera career that extended into the 1890s. His later Gilbert & Sullivan roles in New York included Frederic in an 1882 revival of Pirates, and Prince Hilarion in the original New York production of Princess Ida (1884, produced by John Stetson and sanctioned by D'Oyly Carte).
---
M Index | "Who Was Who" Homepage
---