THE D'OYLY CARTE OPERA COMPANY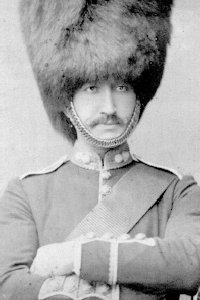 Charles Manners as Private Willis in Iolanthe
Charles Manners (1882-83)
[Born Hoddesdon, Hertfordshire 27 Dec 1857, died Dublin 3 May 1935]
Charles Manners' real name was Southcote Mansergh. He was trained at the Royal Irish Academy in Dublin, at the Royal Academy of Music in London, and in Florence. Manners reportedly joined the D'Oyly Carte organization as a chorister in 1881, but probably appeared first in January 1882 in the chorus of Claude Duval with a Carte tour that lasted until March. He was in the chorus of H.M.S. Pinafore and The Pirates of Penzance, presumably with Mr. D'Oyly Carte's "B" Company between March and August 1882, then from August to November took over roles of Dick Deadeye in Pinafore and Samuel in Pirates with "B" Company. He also appeared with "B" Company as Mr. Wallaby in the companion piece Quite an Adventure.
In November 1882 Manners joined Carte's main company at the Savoy where he created the part of Private Willis in Iolanthe. He played Private Willis until October 1883, when he left the Savoy and the D'Oyly Carte. He subsequently served as principal bass with the Carl Rosa Opera Company for two years, then spent four years at Covent Garden. His Covent Garden debut was as Bertramo in Roberto il Diavolo (October 1890) opposite well-known Cornish soprano Fanny Moody, whom he married that year. Manners later appeared (as Prince Gremin) along with Fanny Moody in the London premiere of Tchaikovsky's Eugene Onegin (Olympic Theatre, October 1892).
Together they went on to found the Moody-Manners Opera Companies in 1897, appearing in London (Covent Garden, Drury Lane, and Lyric), the British provinces, North America, and South Africa. Manners both performed in the Company and served as its managing director. The Moody-Manners "A" Company was for some time the largest opera company ever to tour in Great Britain. The Moody-Manners Companies were disbanded before World War I.
---
M Index | "Who Was Who" Homepage
---