THE D'OYLY CARTE OPERA COMPANY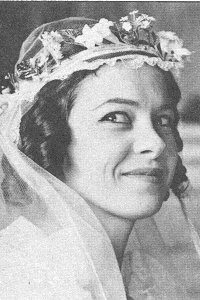 Jennifer Marks as the Plaintiff in Trial by Jury
Jennifer Marks (1962-67)
[Born Plymouth]
Soprano Jennifer Marks studied singing at the Royal College of Music, appeared with the University of London Operatic Society, and played Juliet Brook in Benjamin Britten's The Little Sweep on BBC television before joining the D'Oyly Carte Opera Company chorus in April 1962. In January 1963 she assumed the small parts of Celia in Iolanthe and Fiametta in The Gondoliers for the remainder of the season, ending in August.
She would play Fiametta for the balance of her D'Oyly Carte career, which ended in April 1967. She played several other smaller parts as well:Fleta in Iolanthe (September 1963-June 1965), Ruth in Ruddigore (September 1963-July 1966), Chloe in Princess Ida (January-May 1964, November 1965-April 1966), First Bridesmaid in Trial by Jury (August 1964-June 1965), Kate in The Yeomen of the Guard (August 1964-April 1967), the Plaintiff in Trial by Jury (July 1965-April 1967), Isabel in The Pirates of Penzance (July 1965-April 1967), Lady Ella in Patience (July 1965-April 1967), Celia (again) in Iolanthe (July 1965-April 1967), and Zorah in Ruddigore (August 1966-April 1967).
She also filled in on occasion as Edith in Pirates (1963-64) and Casilda in Gondoliers (1965-66), and appeared in the chorus in the 1966 film version of The Mikado. Miss Marks married in Los Angeles in January 1967, and left the D'Oyly Carte Opera Company in April of that year, moving to Ottawa, Ontario.
---
M Index | "Who Was Who" Homepage
---