THE D'OYLY CARTE OPERA COMPANY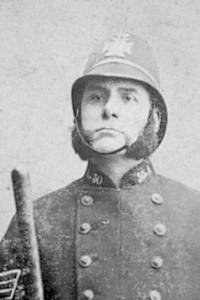 George Marler as the Sergeant of Police in The Pirates of Penzance
George Marler (1880-84, 1889)
[Born London c.1833, died London 12 Feb 1902]
George F. Marler toured with D'Oyly Carte companies from October 1880 to December 1884. He first appeared as the Sergeant of Police in The Pirates of Penzance with Mr. D'Oyly Carte's "B" Company, later (from March 1881) "C" Company. "C" Company's tour ended in December 1881, but Marler took up the Sergeant again in April 1882 with Carte's No. 1 "Pirates" Company.
On December 26, 1882, Marler appeared as Private Willis in the first provincial production of Iolanthe with Mr. D'Oyly Carte's No. 2 "Iolanthe" Company, then took on the same role with the newly-formed No. 1 "Iolanthe" Company in February 1883. He joined another new touring company in December 1883:Mr. D'Oyly Cartes "Pinafore" and "Pirates" Company:with which he played the Sergeant again, as well as Dick Deadeye in H.M.S. Pinafore. In March 1884 the No. 1 "Iolanthe" Company was reconstituted and Marler joined the as Private Willis once more. He left the D'Oyly Carte organization when the Company was disbanded in December 1884.
Over the next several years, Marler appears to have remained active in comic opera outside the D'Oyly Carte sphere. His roles included Dufois in Erminie (on tour under the management of Violet Melnotte, 1885-86), and Dumont in George Fox's romantic opera Macaire (on tour, 1887). He returned to the D'Oyly Carte again briefly as Sergeant Meryll in The Yeomen of the Guard with Carte's Company "C" from July to December 1889.
Marler left the D'Oyly Carte again and had three roles at the Prince of Wales's, London:Major de la Gonfrière in the comic opera Captain Therèse (1890), Count Hogginarmo in the pantomime The Rose and the Ring (1890-91), and Capier in the "military farcical operetta" The Fifteenth of October (1891).
He shortly returned to the D'Oyly Carte organization in a managerial capacity, serving as business manager of D'Oyly Carte Opera Company "B" (January 1893-October 1894), and Company "E" (November 1894-December 1896). Upon his death in 1902 he was described as an operatic vocalist and theatrical teacher.
---
M Index | "Who Was Who" Homepage
---