THE D'OYLY CARTE OPERA COMPANY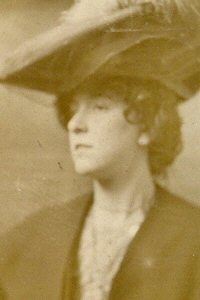 Margaret Marshall
Margaret Marshall (1902-05)
Margaret Marshall began her career in the legitimate theatre, appearing in nineteen dramas at London's Novelty Theatre in 1896-97.
She joined D'Oyly Carte Repertoire Opera Company "C" (later the D'Oyly Carte Principal Repertory Opera Company) as a chorister, appearing as Sacharissa in Princess Ida in late 1902. In January 1903 she assumed the small role of Giulia in The Gondoliers, and in May and June 1904 she appeared for a time as Celia in Iolanthe. In July 1904 she succeeded Jessie Vince as Fleta in Iolanthe and Chloe in Princess Ida. She played Fleta, Chloe, and Giulia until December 1904, and again (briefly) in June 1905.
After leaving the D'Oyly Carte organization, she appeared sporadically in London between 1907 and 1914. None of her appearances were in musical works. The only extended runs were in Weedon Grossmith's comedy The Night of the Party (Apollo, 1907-08) and John Pollock's adaptation of Tolstoy's Anna Karenina (Ambassadors, 1913-14).
---
M Index | "Who Was Who" Homepage
---