THE D'OYLY CARTE OPERA COMPANY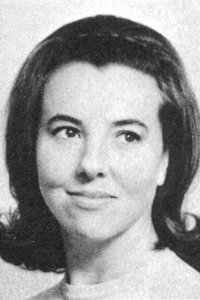 Marian Martin
Marian Martin (1956-69)
[Born Liverpool 11 Dec 1936, died Shrewsbury, Shropshire 3 May 2003]
After playing leads with an amateur Gilbert & Sullivan society, Marian Rose Martin joined the D'Oyly Carte Opera Company chorus in September 1956. She appeared for a time on a regular basis as Vittoria in The Gondoliers (1960-62 and 1965-69). She also filled in on occasion as Kate in The Pirates of Penzance (1957-58, 1962-69), Leila in Iolanthe (1959-65), Peep-Bo in The Mikado (1959-62), Inez in The Gondoliers (1962-65), and the Lady Angela in Patience (1964-65).
Marian Martin may be heard as Kate on the D'Oyly Carte's 1958 recording of The Pirates of Penzance, and seen in the chorus in the Company's 1966 film version of The Mikado.
She was married to D'Oyly Carte baritone George Cook. The Cooks left the Company together in August 1969. She later joined the English National Opera chorus in 1984, appearing with ENO for the next thirteen years in productions including The Mikado (1986-87, 1989-90, 1996-97) and Princess Ida (1992-93). She married former ENO double-bassist Richard Lewis in 2000.
---
M Index | "Who Was Who" Homepage
---