THE D'OYLY CARTE OPERA COMPANY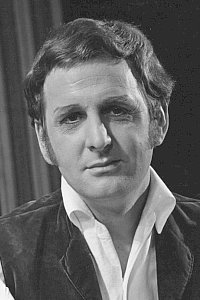 Ralph Mason as Marco in The Gondoliers
Ralph Mason (1959-63, 1965-73, 1974-75)
[Born Brighton 3 Sep 1938, died Cardiff 10 Aug 2016]
In his youth Ralph Mason sang with local church choirs as a boy soprano, and performed in Gilbert & Sullivan in several school productions. Upon his discharge from the Army in 1959 he continued his voice training and made several radio and concert appearances before joining the D'Oyly Carte Opera Company as John Mason, tenor chorister, in November of that year. He soon took the stage name Ralph Mason. Mason took over the small part of Second Citizen in The Yeomen of the Guard in June 1961. He also appeared from time to time as First and Second Citizens (both 1960-61) and Leonard Meryll (1961-62) in Yeomen, and Luiz (1960-61) and Francesco (1960-63) in The Gondoliers before leaving the Company in August 1963 to join the cast of My Fair Lady at the Theatre Royal, Drury Lane, where he appeared as Freddie.
He rejoined the D'Oyly Carte in July 1965 as chorister and understudy, appearing over the next two years on occasion as Mr. Box in Cox and Box, Earl Tolloller in Iolanthe, Leonard Meryll in The Yeomen of the Guard, and Francesco and Luiz in The Gondoliers. In September 1967, following the departure of David Palmer, Mason was promoted to principal tenor, appearing as Box in Cox and Box, the Defendant in Trial by Jury (until August 1970), Alexis in The Sorcerer (from September 1970), Ralph Rackstraw in H.M.S. Pinafore (including the Company's 1971 Phase4 recording), the Duke of Dunstable in Patience, Tolloller in Iolanthe, Cyril in Princess Ida, Richard Dauntless in Ruddigore (from September 1971), Leonard in Yeomen (until August 1970), and Marco in The Gondoliers. Mason also recorded a few numbers (none solo) as Marco and Tolloller on a 1970 D'Oyly Carte collection of "Songs and Snatches." He left the Company for a second time in June 1973, but returned as guest artist to play Cyril in Princess Ida when that opera was revived for the 1974-75 London season at Sadler's Wells and the March-April 1975 "Centenary Season" at the Savoy.
Mason joined the Welsh National Opera chorus in 1977. Roles with WNO include First Prisoner in Fidelio, Don Curzio in The Marriage of Figaro, Remendado in Carmen (1983), Blind in Die Fledermaus (1987), Cherevin in From the House of the Dead, the Notary in La Sonambula (1989), Chief Justice in Un ballo in maschera, Major Domo in Der Rosenkavalier, Leonato in Beatrice and Benedict, and First Yeoman in The Yeomen of the Guard (1995). He may be heard as First and Third Yeoman on the WNO 1995 Telarc recording of Yeomen. Mason retired from WNO in 2003.
His marriage to former D'Oyly Carte soprano Anne Sessions ended in divorce. He is survived by his second wife, soprano Elizabeth Gaskell.
---
M Index | "Who Was Who" Homepage
---