THE D'OYLY CARTE OPERA COMPANY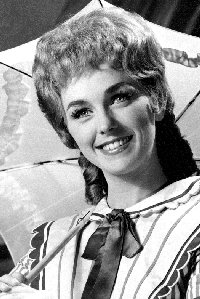 Valerie Masterson as Mabel in The Pirates of Penzance
Valerie Masterson (1964-69, 1969, 1970, 1971, 1974-75, 1981)
[Born Birkenhead, Cheshire 3 Jun 1937]
Valerie Masterson trained at the Matthay School of Music, Liverpool, the Royal College of Music, London, and had a year of private study in Milan, followed by a season with the Landestheatre Opera Company in Salzburg. She appeared in two Promenade Concerts with Sir Malcolm Sargent before joining the D'Oyly Carte Opera Company in August 1964 as one of three principal sopranos. During the 1964-65 season she appeared regularly as Mabel in The Pirates of Penzance, Phyllis in Iolanthe, Lady Ella in Patience (shared with Jennifer Toye), and Kate in The Yeomen of the Guard (shared with Jennifer Marks).
In July 1965, following the departure of Miss Toye, Miss Masterson's roles were Mabel, Ella, Phyllis, Yum-Yum in The Mikado, and Casilda in The Gondoliers, though she would give up the small part of Lady Ella during the 1965-66 season. In November 1965 she added Lady Psyche to her repertoire when Princess Ida was revived. When Ann Hood left the Company in the summer of 1967, Valerie Masterson took over several new roles. She now was clearly the principal soprano, appearing as Josephine in H.M.S. Pinafore, Mabel in Pirates, Princess Ida in Princess Ida, Yum-Yum in Mikado, Elsie Maynard in Yeomen, and Casilda in Gondoliers. She would give up Josephine to newcomer Susan Jackson in May 1968, but was called upon to play the part again for portions of the next season. She left the D'Oyly Carte Opera Company in January 1969 following the North American tour.
During her time with the Company she participated in the 1965 BBC television broadcast of Patience as Lady Ella, and the 1966 film version of The Mikado as Yum-Yum. She appears on several stereo recordings made during her tenure:1965 Princess Ida (as Melissa and Sacharissa), 1965 "A Gilbert & Sullivan Spectacular" (excerpts as Mabel and Yum-Yum), 1966 Sorcerer (as Aline), and 1968 Pirates (as Mabel). After her departure she came back to record Josephine in the 1971 Phase4 recording of H.M.S. Pinafore, and Yum-Yum in the Company's 1973 Mikado.
She would also return to the D'Oyly Carte stage for several guest appearances:as Princess Ida in 1969, 1970, 1971, and for the 1974-75 London season at Sadler's Wells and the March-April 1975 "Centenary Season" at the Savoy; and as Mabel in December 1981 at the Adelphi.
Valerie Masterson's career in opera would continue to blossom apart from Gilbert & Sullivan. She has had engagements with Glyndebourne Festival Opera, English National Opera, Opera North, Welsh National Opera, Scottish Opera, the English Bach Festival, the Handel Opera Society, and The Royal Opera, Covent Garden. She has sung in the leading opera houses in Paris, Aix-en-Provence, Toulouse, Munich, Geneva, Barcelona, Milan, San Francisco, and Chile, and has sung principal roles in La Traviata, Le Nozze di Figaro, Manon, Faust, Cosi fan Tutte, La Boheme, Semele, Die Zauberflöte, Don Giovanni, Julius Caesar, Rigoletto, Romeo and Juliet, Carmen, Idomineo, The Merry Widow, Lucia di Lammermoor, Xerxes, and many other works.
She is also in great demand for radio and television and as a recording artist, her scope extending beyond opera into musicals such as Kismet, Song of Norway, On the Town, and The King and I. But she has also returned to Gilbert & Sullivan on numerous occasions. In 1972 she filmed four operas with "Gilbert & Sullivan for All":H.M.S. Pinafore (as Josephine), The Pirates of Penzance (as Mabel), The Mikado (as Yum-Yum), and The Yeomen of the Guard (as Elsie) and frequently appeared with that organization in concert. She appeared on BBC television as Yum-Yum in 1973 and Elsie in 1975, and in 1983 recorded an album of G&S solos and duets with Robert Tear. She sang Josephine, Mabel, Ida, Yum-Yum, and Elsie in the 1989 BBC2 series of the complete Gilbert & Sullivan operas. In 1997 she recorded excerpts from Ivanhoe, The Chieftain, The Beauty Stone, and The Emerald Isle with the National Symphony Orchestra for the CD "Sullivan & Co.--The Operas That Got Away."
Valerie Masterson was awarded the C.B.E. (Commander of the Order of the British Empire) in 1988, made a Fellow of the Royal College of Music in 1992, and became president of British Youth Opera in 1994. She is married to former D'Oyly Carte principal flautist Andrew March.
---
M Index | "Who Was Who" Homepage
---