THE D'OYLY CARTE OPERA COMPANY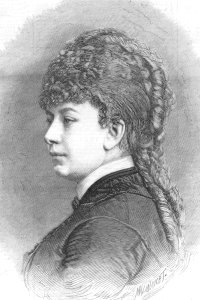 Alice May
Alice May (1877-78)
[Born Yorkshire 1847, died St. Louis, Missouri 16 Aug 1887]
Alice May, whose real name was Louise, was born in England but traveled to Australia and New Zealand where she made her concert debut in 1870 at the Princess's Theatre, Melbourne, and her operatic debut in 1872 with Lyster & Cagli's Royal Italian Opera Company. Two years later she embarked on an ambitious and successful year-long tour of New Zealand as prima donna with (G. B.) Allen's Royal English Opera Company. The Company then headed for seasons in Melbourne, Adelaide, and Calcutta, before returning to England.
Miss May and G. B. Allen were closely aligned during those years. They have been widely reported to be husband and wife, but their relationship seems to have been de facto.In any event, they were shortly engaged by Carte's newly-formed Comedy-Opera Co. Ltd. for the Opera Comique where Miss May created the role of Aline, and Allen conducted the first performance of The Sorcerer on November 17, 1877. Their association with the Company would not last long. Allen was replaced as musical director the next month, and Miss May was herself replaced in January 1878. It would be her only engagement with the D'Oyly Carte organization.
She next appeared in North London as Drogan in a revival of Offenbach's Geneviève de Brabant at Islington's Royal Philharmonic (January 23, 1878), a production Carte was managing for Charles Head.
Miss May later appeared in London in The Little Duke (Royal Philharmonic, 1878), La Petite Mademoiselle (Alhambra, 1879), Les Mousquetaires (Globe, 1880), Jeanne, Jeannette, and Jeanneton (Alhambra, 1881), and The Bronze Horse (Alhambra, 1881).
Miss May subsequently split with Allen and headed for America, where she made her New York debut in May 1883 at the Standard Theatre in the title role in Satanella with the Barton English Opera Company. (In 1884 she married Louis Raymond, an actor with Ford's Opera Company.) She toured America for the next few years with various opera companies, her roles including Little Buttercup in H.M.S. Pinafore, Ruth in The Pirates of Penzance, the Lady Jane in Patience, Jelly in Gilbert & Clay's Princess Toto, and Katisha in America's first authorized production of The Mikado (Uhrig's Cave, St. Louis, July 1885).
A popular touring performer in America, she was nevertheless often indisposed due to alcohol. In 1887 while on tour with the Bijou Opera Company in St. Louis she was taken seriously ill. She died at City Hospital, and was buried by her fellow company members in that city.
Alice May's life story has now been told in a most affecting and thoroughly researched biography, "Alice May: Gilbert & Sullivan's First Prima Donna," by Adrienne Simpson (Routledge, New York and London, 2003).
---
M Index | "Who Was Who" Homepage
---