THE D'OYLY CARTE OPERA COMPANY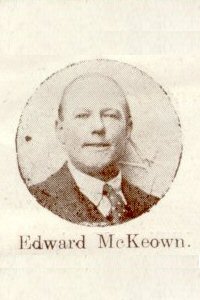 Edward McKeown
Edward McKeown (1917-19)
[Born Australia 1882]
Edward McKeown made his first appearance on the London Stage as Jerome in the comic opera The Grass Widows at the Apollo Theatre, September-October 1912. He soon returned to his native Australia, where he appeared in leading tenor roles in The Gondoliers, Iolanthe, H.M.S. Pinafore, The Pirates of Penzance, The Yeomen of the Guard, The Mikado, and Patience with the J. C. Williamson organization in 1914.
Returning to England, he joined the D'Oyly Carte Repertory Opera Company in November 1917, replacing Gwynn Jones as Ralph Rackstraw in Pinafore, Earl Tolloller in Iolanthe, Prince Hilarion in Princess Ida, and Colonel Fairfax in Yeomen. When Dewey Gibson departed in January 1918, McKeown added Alexis in The Sorcerer, Frederic in Pirates, the Duke of Dunstable in Patience, Nanki-Poo in The Mikado, and Marco in The Gondoliers to his duties.
McKeown was the lone principal tenor until December 1918, when Arthur Lucas joined the Company. Lucas took over the Duke (though McKeown played the role at least once in March 1919), Tolloller, and Hilarion, and a share of Ralph. McKeown switched to Cyril in Princess Ida. He played Alexis, Frederic, Cyril, Nanki-Poo, Fairfax, Marco, and a share of Ralph until June 1919, when the season ended and he left the D'Oyly Carte organization.
McKeown later traveled to South Africa with a "Gilbert & Sullivan Opera Company" in a repertoire of seven Gilbert & Sullivan operas, by permission of Rupert D'Oyly Carte. They opened in Johannesburg in June 1920, with McKeown as Nanki-Poo in The Mikado. As leading tenor, his other roles on the tour were Ralph Rackstraw, Frederic, Tolloller, Colonel Fairfax, and Marco.
---
M Index | "Who Was Who" Homepage
---