THE D'OYLY CARTE OPERA COMPANY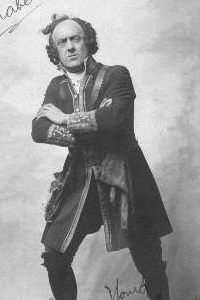 Robert McQueen as Old Adam Goodheart in Ruddigore
Robert McQueen (1915-16, 1919-22, 1939-47)
Robert McQueen joined the D'Oyly Carte Repertory Opera Company chorus in July 1915, but left, perhaps for military service in World War I, in February 1916. He rejoined the chorus in September 1919, assuming the smallish bass parts of Foreman of the Jury in Trial by Jury, the Notary in The Sorcerer, Bob Beckett in H.M.S. Pinafore, and Old Adam Goodheart in Ruddigore in July 1921. He yielded the Notary and Old Adam to T. Penry Hughes in July 1922 and left the Company again in December 1922.
He had occasional appearances on the London Stage in the 1920s and '30s:in Nicolette (Duke of York's, 1925), The Vagabond King (Winter Garden, 1927-28), Command Performance (Saville, 1933), and 1066 and All That (Cambridge, 1937). He also appeared in as a juryman in Trial by Jury as part of the Courtice Pounds Tribute Fund Matinee (His Majesty's, 1927).
In December 1939 McQueen returned to the D'Oyly Carte Opera Company chorus as a wartime replacement, and reclaimed the Foreman's position in September 1941. In August 1943 he took on the additional duties of assistant stage manager. Between 1942 and 1947 he filled in often as Sergeant Meryll in The Yeomen of the Guard and in October 1947 gave one more turn as Bob Beckett in Pinafore. McQueen gave up the Foreman to Radley Flynn in September 1947, and left the chorus and his management position in December 1947.
He later returned to the London Stage as Helma in Song of Norway (Palace, July-September 1949).
---
M Index | "Who Was Who" Homepage
---