THE D'OYLY CARTE OPERA COMPANY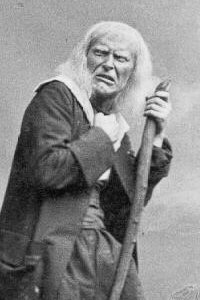 James A. Meade
James A. Meade (1879)
James A. Meade appeared in opera, burlesque, and drama with several touring companies in America between 1872 and 1880. His first New York appearance was as Pan in Luna, the Naughty Little Boy who cried for the Moon (Wood's Museum, March 1872). He also managed his own company in a tour of Alfred Cellier's The Sultan of Mocha in 1878, and in December of that year stage managed, and appeared as Dick Deadeye, in an unsanctioned production of H.M.S. Pinafore with the Alice Oates English Opera Company in San Francisco. In March and April 1879 he stage managed and appeared with Alice Oates' Company at Haverly's Lyceum Theatre, New York, in several comic operas.
Meade then was engaged by Richard D'Oyly Carte to tour England and Ireland with Mr. D'Oyly Carte's "Second London" Company as stage manager and Sir Joseph Porter in H.M.S. Pinafore. Meade also took parts in two companion pieces:Antony in Charles Selby's farce Antony & Cleopatra, and an unidentified role in William Brough's farce No. 1 'Round the Corner. The tour lasted from September 22 to December 13, 1879, and was Meade's only D'Oyly Carte experience.
He then returned to America, appearing in, and stage managing, a burlesque of Carmen, and La Fille du Tambour Major, with the M. B. Leavitt English Opera Burlesque Company (Haverly's Fourteenth Street Theatre, New York, September-October 1880, and Boston Theatre, October 1880).
Meade eventually returned to England, where, some years later, he appeared in London as Muggins in a one-act "musical absurdity" called Binks, the Downy Photographer (Strand, October-November 1893).
---
M Index | "Who Was Who" Homepage
---