THE D'OYLY CARTE OPERA COMPANY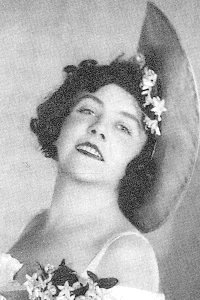 Winnie Melville as Gianetta in The Gondoliers
Winnie Melville (1929-30)
[Born 1895, died London 19 Sep 1937]
Winnie Melville was initially a concert singer who made her London Stage debut in the musical show See-Saw (Comedy, December 1916). After appearing at the same theatre in Bubbly (May 1917-April 1918), she went to Paris for Zig-Zag at the Folies-Bergères. She returned to London where she appeared at the Hippodrome in Joy Bells (March 1919) and Jig-Saw! (June 1920). After touring in Sybil, she returned to London, appearing at His Majesty's in Cairo, and (in August 1922) at the Lyric in Whirled into Happiness.
The cast at the Lyric included Derek Oldham, whom Miss Melville married in 1923. She left the stage for three years, returning to His Majesty's in 1926 as Kathie in The Student Prince. She next appeared in Princess Charming (Palace, October 1926) and The Vagabond King (Winter Garden, April 1927, again opposite Oldham). In September 1928 she was at the Coliseum performing a repertoire of songs, then in December toured in the title role in Winona.
In August 1929 she joined the D'Oyly Carte Opera Company as principal soprano, appearing as Josephine in H.M.S. Pinafore, Mabel in The Pirates of Penzance, Yum-Yum in The Mikado, Rose Maybud in Ruddigore, Elsie Maynard in The Yeomen of the Guard, and Gianetta in The Gondoliers. She may have been out of her element, however, and she left the Company in January 1930, replaced by Sylvia Cecil.
She later toured in Blue Eyes and Forever After, but played principally in vaudeville or variety houses. Although she made a number of recordings in her career, none were of Gilbert & Sullivan. Her marriage to Oldham ended in divorce, and she died in 1937 at the age of 42.
---
M Index | "Who Was Who" Homepage
---