THE D'OYLY CARTE OPERA COMPANY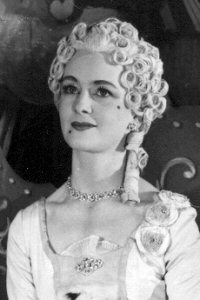 Maureen Melvin as Casilda in The Gondoliers
Maureen Melvin (1954-57)
[Born Lofthouse, Yorkshire]
After completing her studies at the Royal Academy of Music, Maureen Melvin was engaged to appear as a chorister in the 1953 film "The Story of Gilbert & Sullivan." Previously she had worked as a pianist for BBC Radio's "Children's Hour" programs.
Her first stage job was as Cinderella in a London suburban pantomime. She joined the D'Oyly Carte Opera Company as soprano chorister in January 1954, then took the small part of Ada in Princess Ida in September. When Tatiana Preston and Jeanne Bailey left in December, Miss Melvin moved up to several smaller soprano parts:Celia in Iolanthe, Sacharissa in Princess Ida, Kate in The Yeomen of the Guard, and Casilda in The Gondoliers. She added First Bridesmaid in Trial by Jury to her repertoire in July 1955.
Miss Melvin would play Casilda for the rest of her D'Oyly Carte career. During the 1956-57 season she also appeared as First Bridesmaid and the Plaintiff in Trial, Isabel in The Pirates of Penzance, Celia, Saccharissa, Zorah in Ruddigore, and Kate in Yeomen. Toward the end of the season she also filled in for the soon to depart principal soprano Cynthia Morey as Phyllis in Iolanthe and Yum-Yum in The Mikado.
Miss Melvin began the next season as principal soprano:appearing as Plaintiff, Phyllis, Yum-Yum, Rose Maybud in Ruddigore, and Casilda. She left the Company after the four-week Streatham Hill season in December 1957 and was married the following month.
In the 1990s Maureen Melvin wrote four books, "Paws for Thought," "Paws Again," "Paws for Pasta," and "Paws Forever," from the perspective of a King Charles Spaniel.
---
M Index | "Who Was Who" Homepage
---