THE D'OYLY CARTE OPERA COMPANY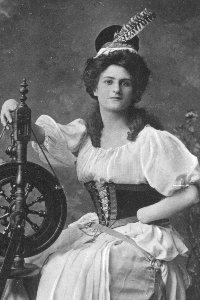 Beatrice Meredith as Phoebe Meryll in The Yeomen of the Guard
Beatrice Meredith (1906-09)
Beatrice Meredith first appeared with the D'Oyly Carte Opera Company at the Savoy for the First London Repertory Season starting in December 1906. A member of the chorus, she also filled in on occasion as Vittoria (January-February 1907) and Tessa (March 1907) in The Gondoliers, and in June 1907, when Iolanthe was revived, she was given the small part of Leila in the fairy opera.
She left the Savoy in July 1907 to take the principal soubrette roles (Hebe in H.M.S. Pinafore, Edith in The Pirates of Penzance, Lady Angela in Patience, Iolanthe in Iolanthe, Melissa in Princess Ida, Pitti-Sing in The Mikado, Phoebe Meryll in The Yeomen of the Guard, and Tessa in The Gondoliers) on tour with the D'Oyly Carte Principal Repertory Opera Company, but yielded those parts to Jessie Rose in September, reverting to the smaller parts of Kate in Pirates and Vittoria in Gondoliers. She did fill in on occasion for Miss Rose between January and April 1908.
In April 1908 Miss Meredith returned to the Savoy for the Second London Repertory Season. Once more her duties were mainly in the chorus, though she was given the small part of Jenny Jones in the curtain raiser A Welsh Sunset (July-September 1908) and filled in from time to time in September for Miss Rose as Hebe and Pitti-Sing.
Beatrice Meredith returned to touring with the Principal Repertory Opera Company in October 1908. She appeared once more in the familiar leading parts of Hebe, Edith, Angela, Iolanthe, Melissa, Pitti-Sing, Phoebe, and Tessa until April 1909 when she left the D'Oyly Carte organization.
Her only subsequent parts on the London Stage came in September 1911 when she appeared in two performances of The Girl With the Cash (a "musical mixture") and Sherbert Jones (a "melodramatic travesty") at the Kingsway Theatre.
---
M Index | "Who Was Who" Homepage
---