THE D'OYLY CARTE OPERA COMPANY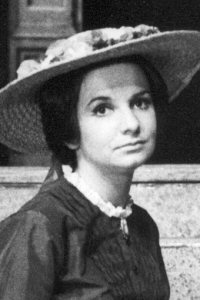 Judi Merri as Constance Partlett in The Sorcerer
Judi Merri (1973-75)
Judi Merri, whose real surname is Quine, trained at the Royal Manchester College of Music and the London Opera Centre, winning several prizes and scholarships for singing and acting. Her career was nearly derailed by a serious car accident, but after several operations she was able to resume her calling.
She joined the D'Oyly Carte Opera Company in June 1973 and immediately began to play principal parts, filling in that month for Linda Ann Hutchison as Constance Partlett in The Sorcerer and for Peggy Ann Jones as Pitti-Sing in The Mikado and Mad Margaret in Ruddigore. When Miss Jones left at the end of the season, Judi Merri became the Company's principal mezzo-soprano. From July 1973 forward she appeared as Constance, Lady Angela in The Sorcerer, Iolanthe in Iolanthe, Pitti-Sing, Margaret, and Phoebe Meryll in The Yeomen of the Guard. In February 1974 (when Pauline Wales left the Company) Miss Merri added Tessa in The Gondoliers, and in the 1975 Centenary Season she appeared as Kalyba in Utopia Limited and sang Lisa in The Grand Duke.
Miss Merri left the D'Oyly Carte Opera Company in July 1975. She later appeared (in February 1988) with St. Albans Chamber Opera. She may be heard on the D'Oyly Carte's 1974 recording of Iolanthe (as Iolanthe) and their 1975 Utopia Limited (as Kalyba).
---
M Index | "Who Was Who" Homepage
---