THE D'OYLY CARTE OPERA COMPANY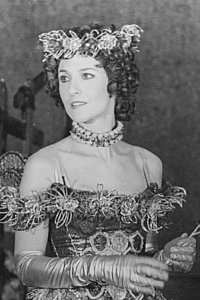 Jane Metcalfe as Iolanthe in Iolanthe
Jane Metcalfe (1975-79)
[Born Blackheath, London]
Mezzo-soprano Jane Metcalfe studied at the Royal College of Music. After winning the Sir Thomas Beecham Scholarship, she studied in Geneva where she won a third prize for singing in the Geneva International Competition for Musicians. Before joining the D'Oyly Carte Opera Company she appeared in the Scottish Opera chorus in Les Troyens at the 1972 Edinburgh Festival, with the Glyndebourne Festival Opera Chorus in 1975, and with the Ambrosian Opera Chorus for BBC television's The Flying Dutchman.
She joined the D'Oyly Carte Opera Company in September 1975 as principal soubrette, immediately assuming the roles of the Lady Angela in Patience, Iolanthe in Iolanthe, Pitti-Sing in The Mikado, Phoebe Meryll in The Yeomen of the Guard, and Tessa in The Gondoliers. She also played Edith in The Pirates of Penzance for the April-July 1976 North American tour only. In February 1977 she added Melissa to her repertoire when Princess Ida was revived, and the December 1978 return of Ruddigore gave her the opportunity to play Mad Margaret. She left the Company in April 1979, just prior to the 17-week Australia-New Zealand tour. Miss Metcalfe may be heard on the D'Oyly Carte Opera Company recordings of The Grand Duke (as Lisa, 1976), The Gondoliers (as Tessa, 1977), The Zoo (as Eliza Smith, 1978), and The Yeomen of the Guard (as Phoebe, 1979).
She appeared for a time (1979-80) with "The Gilbert & Sullivan Companions," a group including former D'Oyly Carters Julia Goss, Geoffrey Shovelton, Jon Ellison, and Michael Rayner. In the 1980s she also played Iolanthe and Pitti-Sing with the London Savoyards, and Lady Angela and Iolanthe in Holland Park.
She formed her own group, "Studs and Bustles," in 1983 with former D'Oyly Carters Patricia Anne Bennett, Patrick Wilkes, and Tom Marandola. They toured the United Kingdom with a program of Gilbert & Sullivan excerpts until 1989. In 1996 Miss Metcalfe sang Ruth in The Pirates of Penzance with the Madison (Wisconsin) Savoyards. She has also appeared with a number of other opera companies including English National Opera and Opera Factory Zurich.
In recent years she has devoted herself to teaching, as well as singing, both privately and at the Guildhall School of Music. In 1998 she founded "Shaping Voices," a company that creates and performs new works and also offers workshops in performance and creativity.
---
M Index | "Who Was Who" Homepage
---