THE D'OYLY CARTE OPERA COMPANY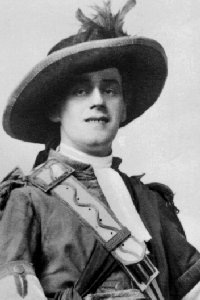 Henry Millidge as Luiz in The Gondoliers
Henry Millidge (1921-26)
[Born 27 Jul 1892, died 2 Dec 1959]
Henry Millidge first appeared with the D'Oyly Carte Repertory Opera Company in April 1921, taking his first named part as Luiz in The Gondoliers beginning in June. (He also played Luiz with the D'Oyly Carte "New" Opera Company briefly in July 1921.) Millidge gradually added Second Yeoman in The Yeomen of the Guard (1921-22), Counsel to the Plaintiff in Trial by Jury, and Samuel in The Pirates of Penzance (both July 1922), before transferring to the D'Oyly Carte "New" Opera Company in July 1923.
He toured with the "New" Company from July 1923 to January 1924, appearing as Captain Corcoran in H.M.S. Pinafore, Strephon in Iolanthe, Pish-Tush in The Mikado, and Luiz. In February 1924 he was back with the Repertory Company, where he again took up the Counsel, Second Yeoman, and Luiz. Between February 1924 and June 1925 he also filled in on occasion for Darrell Fancourt as Sir Marmaduke in The Sorcerer and Sir Roderick in Ruddigore, and for Sydney Granville as Archibald Grosvenor in Patience and Strephon. And at some point or points between December 1924 and February 1925, he made emergency appearances with the "New" Company as Captain Corcoran in Pinafore.
When Sydney Granville left the Repertory Company in June 1925, Millidge took over as Grosvenor in Patience, Strephon in Iolanthe, Florian in Princess Ida, Pish-Tush in The Mikado, and Giuseppe in The Gondoliers, while retaining his part as Counsel in Trial.
Millidge left the D'Oyly Carte organization in June 1926. He rejoined a number of his former colleagues as a juryman in Trial by Jury for the Courtice Pounds Tribute Fund Matinee (His Majesty's, December 12,1927). He later appeared at the Piccadilly and Daly's in Blue Eyes (April-December 1928), and at Daly's (December 1927-February 1928) and on tour in Lilac Time. He made several returns to the London Stage in the 1930s, mostly in musicals, including 1933 and 1936 revivals of Lilac Time. The 1936 revival at the Coliseum was his last appearance in London.
---
M Index | "Who Was Who" Homepage
---