THE D'OYLY CARTE OPERA COMPANY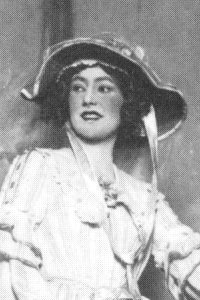 Ella Milne as Isabel in The Pirates of Penzance
Ella Milne (1914-16, 1919-20, 1920)
[Born c.1895]
Ella Milne's first tour with the D'Oyly Carte Repertory Opera Company was from July 1914 to February 1916. She appeared on a regular basis as the Lady Saphir in Patience, Chloe in Princess Ida, and Peep-Bo in The Mikado, and filled in from time to time in the principal soubrette roles of Iolanthe in Iolanthe and Pitti-Sing in The Mikado.
She returned for a second engagement with the Repertory Company in September 1919:this time as First Bridesmaid in Trial by Jury, Isabel in The Pirates of Penzance, Fleta in Iolanthe, Chloe in Princess Ida, and Giulia in The Gondoliers. She left again in April 1920, but was called on once more in December 1920 as an emergency replacement with the D'Oyly Carte "New" Opera Company, filling in for a few performances that month as Iolanthe, Pitti-Sing, and Tessa in The Gondoliers.
After leaving the D'Oyly Carte organization for the final time Miss Milne had several engagements on the London Stage in The Beggar's Opera (Lyric, Hammersmith, 1921-22, 1929, and 1930), The Merchant of Venice (Duke of York's, 1922), Jack Straw (Criterion, 1923), Come In (Queen's, 1924), La Vie Parisienne (Lyric, Hammersmith, 1929), Don't Go (Arts, 1931), and Design for Living (Savoy, 1939).
---
M Index | "Who Was Who" Homepage
---