THE D'OYLY CARTE OPERA COMPANY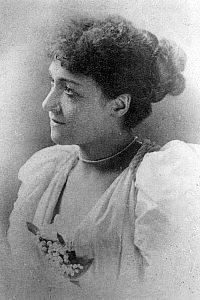 Lena Monmouth
Lena Monmouth (1879-81, 1884-87)
[Born Islington, London 1860]
Lena Monmouth, real name Eleanor Jane Finili, was a chorister and small part player with the D'Oyly Carte Opera organization for a good part of the period from 1879 to 1881 and 1884 to 1886. She may well have served a portion of the intervening years as well, but there is no indication of any roles during this period.
Miss Monmouth was in the chorus of Mr. D'Oyly Carte's touring "Second 'Pinafore' Company" in December 1879 when she was picked to sing the small part of Kate in the make-shift copyright performance of The Pirates of Penzance given at the Royal Bijou Theatre, Paignton, on December 30, 1879. Her husband, baritone Frederick Federici, was Captain Corcoran and the Pirate King with the same Company. She also played Mary in the Henry Tinson & P. W. Halton "vaudeville" Four by Honours, a compaion piece with Pinafore in May 1880.
She next had an undetermined named part in the B. T. Hughes & P. W. Halton curtain-raiser Six and Six, playing with The Pirates of Penzance by Carte's "D" (later "E") Company from December 1880 to November 1881.
After a gap of nearly three years she reappeared in a D'Oyly Carte program in September 1884, filling in briefly that month as Sacharissa in Princess Ida with D'Oyly Carte's "D" ("Princess Ida" No. 1) Company. Between February and May 1885 she was Chloe in Princess Ida with "D" Company, now giving The Sorcerer with Trial by Jury as well as Princess Ida.
From August 1885 to May 1886 she and her husband were in New York and New England with Carte's First American Mikado Company:she in the chorus, he in the title role. They then returned to England for two weeks of Pinafore and The Mikado before taking the latter work on a tour of Germany and Austria. The tour lasted until January 1887. She then traveled to New York as a chorister with Carte's First American Ruddygore Company, appearing at the Fifth Avenue Theatre from February to April 1887. It was her last recorded engagement with the D'Oyly Carte organization.
It seems likely that she traveled to Australia with her husband in 1887, but returned to England some time after his tragic and dramatic death at the Princess's Theatre, Melbourne. Following her return she appeared in London at the Lyric Theatre as Mrs. Blossom in the one-act operetta Beef Tea (1892-93), as Irene in the lyric opera The Magic Opal (1893), and as Hannah in the burlesque Little Christopher Columbus (1893-94).
---
M Index | "Who Was Who" Homepage
---